Classification society DNV said that owners have placed orders for nine LNG-powered vessels in July.
"Several announced/rumored big orders remains in the pipeline but congrats to Pacific International Lines, Mediterranean Shipping Company, and Furetank for adding to their already sizable fleets/orderbooks equipped for LNG bunkering," Martin Wold, principal consultant at DNV, said.
"MSC's new cruise ships will even feature liquid hydrogen-powered fuel cells. This type of pilot project is absolutely key to drive technology maturity and safety framework," Wold said.
Also, North Sea Container Line, MPC Container Ships, and Topeka ordered two methanol-fueled container feeders in July, he said.
To remind, owners placed orders for record 83 LNG-powered vessels in the second quarter of this year.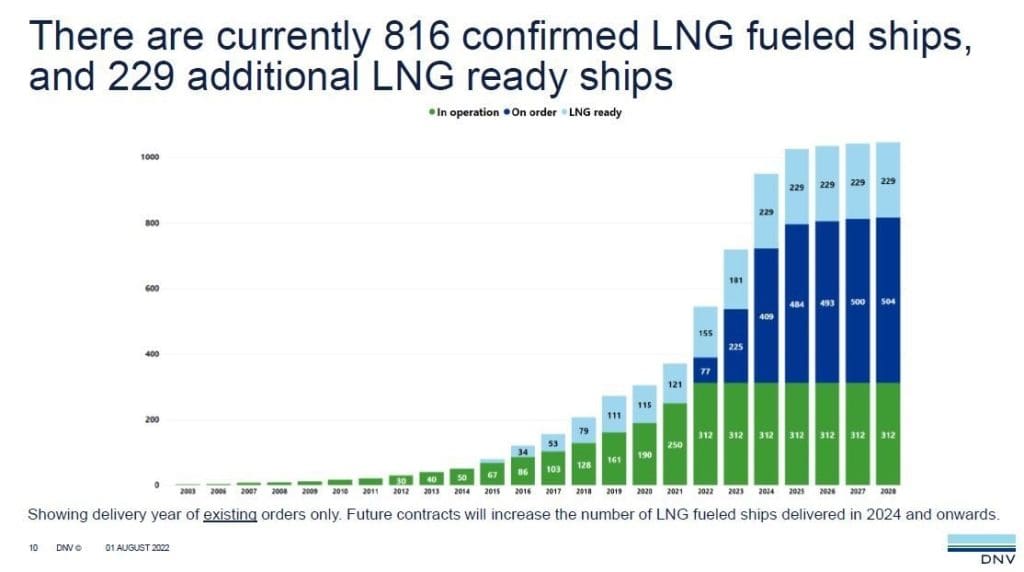 816 confirmed LNG-powered ships
According to DNV's Alternative Fuels Insight platform, 313 LNG-powered ships are already in operation, while there are 503 LNG-fueled vessels on order.
Owners also placed orders for 229 LNG-ready vessels.
LNG-powered car and passenger ferries continue to lead the way with 46 in operation. The operational fleet also includes 39 oil/chemical tankers and the same number of containerships, and 36 offshore supply ships.
As per vessels on order, LNG-powered containerships account for a big part of the orders with 170 units. Owners also ordered 94 car carriers, 53 crude oil carriers, and 49 bulk carriers.
These statistics do not include smaller inland vessels or dual-fuel LNG carriers.
Besides LNG-powered and LNG-ready vessels, there are 38 bunkering vessels in operation and 18 on order, the platform shows.