Classification society DNV reported another strong month in orders for LNG-powered vessels as owners look to slash emissions.
DNV added a total of 40 new LNG-powered ships to its Alternative Fuels Insight platform last month.
However, around 15 of these vessels were ordered in December, Martin Wold, principal consultant at DNV, told LNG Prime on Thursday.
September still holds the record with 35 orders for LNG-powered vessels.
"Growth is again driven by large container ships, and this round it was Mediterranean Shipping Company (MSC) in particular pushing the total count of LNG-fueled ships confirmed to nearly 700," Wold said.
The January count includes orders by MSC, NYK, ZIM, EPS, PIL, Furetank, Hartmann, and Nornickel.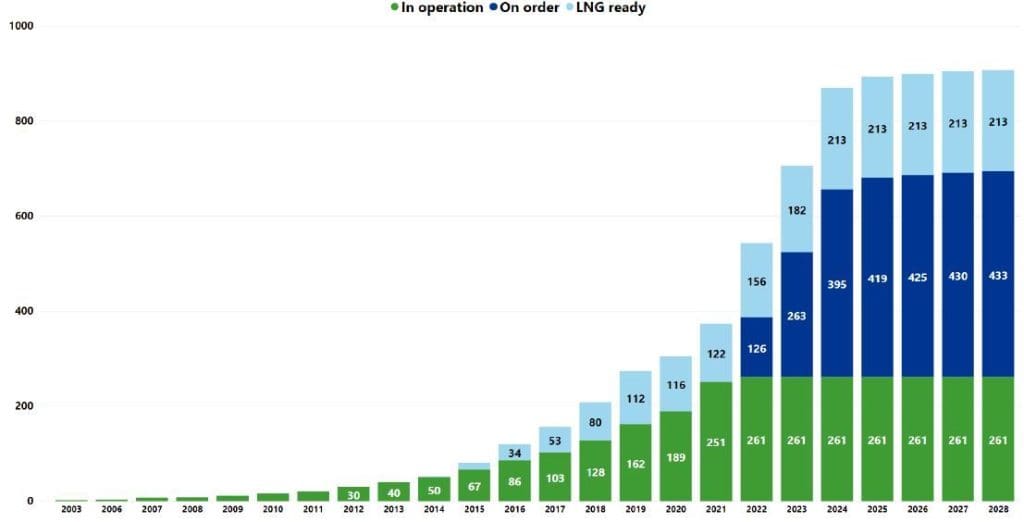 According to the DNV platform, 261 LNG-powered ships are already in operation.
LNG-powered car and passenger ferries continue to lead the way with 44 in operation. The operational fleet also includes 32 offshore supply ships, and 31 oil/chemical tankers.
As per vessels on order, LNG-powered containerships and crude oil carriers account for a big part of the orders with 119 and 62 units, respectively. Owners also ordered 56 LNG-powered car carriers and 52 bulk carriers.
These statistics do not include smaller inland vessels.