Finnish state-owned natural gas transmission system operator, Gasgrid, is planning to install Excelerate Energy's FSRU in Inkoo or Estonia's Paldiski in December this year.
Excelerate's 150,900-cbm Exemplar will serve Finland, Estonia, and other Baltic states under a 10-year charter deal Gasgrid signed with the US LNG firm in May.
The FSRU, which can supply more than 5 billion cubic meters per year of regasification capacity, is already on its way to Europe from Argentina.
According to its AIS data provided by VesselsValue, the FSRU should arrive at Navantia's yard in El Ferrol, Spain on September 22.
Excelerate previously said that Exemplar will go to a dry dock in Spain for maintenance and winterization before sailing on to the Baltic Sea to provide LNG regasification services to both Finland and Estonia.
Two slots per month from January 2023
Gasgrid and Fortum are working on the LNG import facility in the port of Inkoo, while Estonia's Elering, Alexela, and Infortar are building the LNG terminal in Paldiski.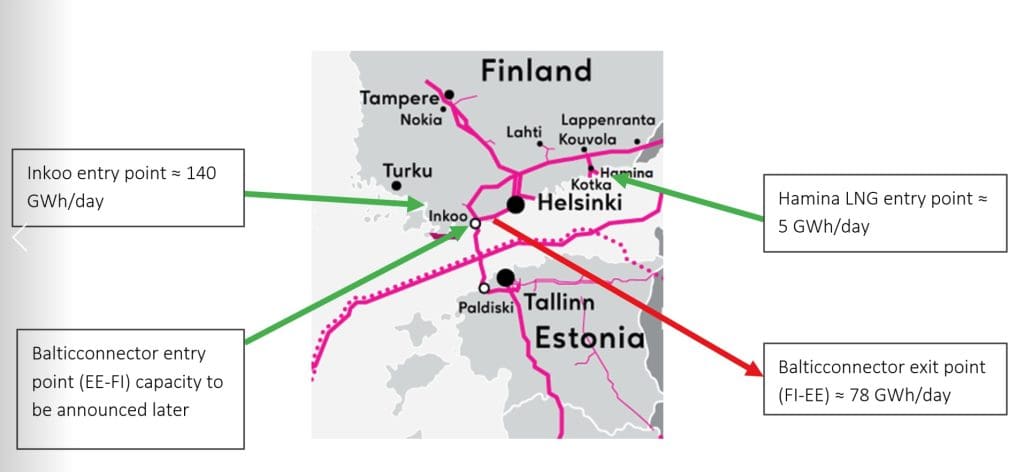 According to Gasgrid, commissioning of the LNG terminal would start in December 2022, but the firm would announce the initial terminal site "in the coming months".
"Both initial terminal site options, Inkoo, Finland and Paldiski, Estonia, are progressing according to that schedule," it said.
Regardless of the initial location of the floating LNG terminal, the final location will be Inkoo, Finland, when the port structures are completed.
The state-owned firm said it is "investigating various options" for commissioning cargo during the start-up phase.
If everything progresses as planned, the floating LNG terminal would start its commercial operation in January 2023, it said.
The firm plans to offer capacity of two slots per gas month from the beginning of 2023.
"This means that the floating LNG terminal could be loaded by LNG twice per gas month enabling ≈ 2 TWh/month of gas to be injected into the gas transmission network during the gas month," it said.
The terminal operator would seek means to increase available slots "as soon as possible when technical and operational functionality is working reliably," the firm said.
Besides the FSRU-based facility, Finland's Hamina LNG terminal should also start operating in the fourth quarter of this year.
Gasgrid said it would offer entry capacity at the Hamina LNG entry point "as soon as it is agreed" with the terminal's operator.