The first Q-Max LNG carrier has arrived at the LNG Croatia FSRU which serves the Krk facility in the northern Adriatic Sea.
The 266,366-cbm Al Dafna docked at the 140,000-cbm FSRU on Tuesday, according to the state-owned terminal operator, LNG Croatia.
As previously reported by LNG Prime, the Nakilat-owned and Qatargas-chartered Q-Max LNG carrier previously loaded the cargo at the giant Ras Laffan LNG complex in Qatar.
Besides marking the first LNG cargo from Qatar to Croatia, this is also the largest carrier to dock at the Krk facility since the start of commercial operations on January 1.
Q-Max carriers are the world's biggest LNG vessels and they are about 345 metres long.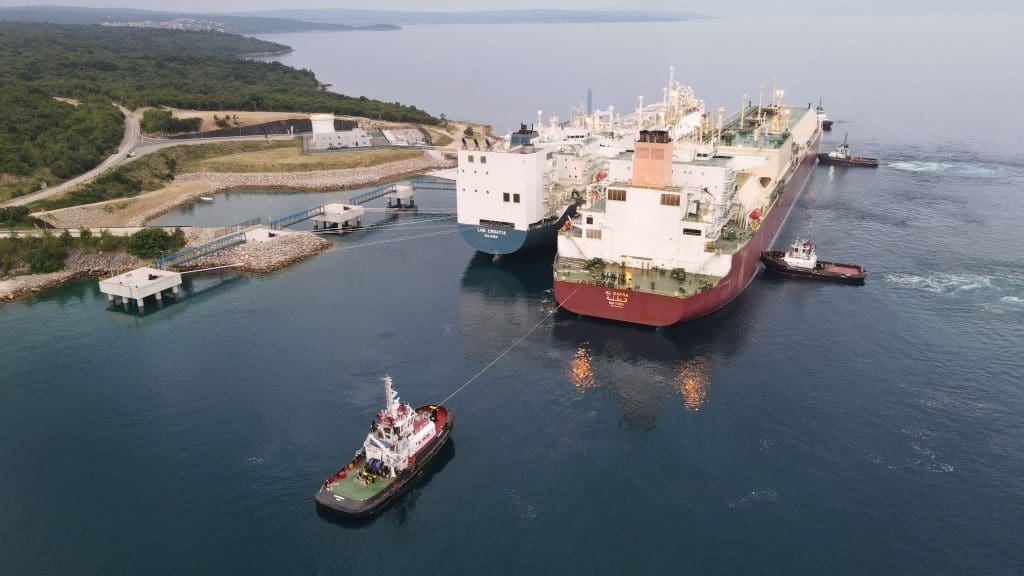 Following the completion of unloading operations, Al Dafna would leave Krk on Wednesday, LNG Croatia said.
In addition, the new delivery marked the tenth shipment for Croatia since the start-up of operations.
Previously, the Croatian FSRU received six shipments from the US, two from Nigeria, and one from Belgium's Zeebrugge.
The FSRU also supplied a small cargo in May to Avenir LNG's dual-purpose bunkering and supply vessel Avenir Accolade.
Croatia's first LNG terminal has the capacity to send up to 2.6 bcm per year of natural gas into the national grid.
Switzerland-based trading firm MET, Hungary's MFGK, and Qatar's PowerGlobe have booked almost all of the volumes at the Krk facility for the next three years.