Excelerate Energy's 150,900-cbm FSRU Exemplar has arrived in the port of Inkoo where it will serve Finland's first FSRU-based import facility, according to Gasgrid.
State-owned gas transmission system operator Gasgrid announced the arrival of the 2010-built FSRU on Tuesday.
The vessel, which can supply more than 5 billion cubic meters per year of regasification capacity, will serve Finland and other Baltic states under a 10-year charter deal Gasgrid signed with the US LNG firm in May.
Gasgrid has leased the 291 meters long and 43 meters wide Exemplar for a total cost of 460 million euros ($489 million).
As previously reported by LNG Prime, the unit arrived in the Gulf of Finland, offshore Inkoo, on Monday.
Gasgrid said last week that that it expected the vessel to arrive in Inkoo during December 25-28, depending on weather conditions.
Helped by four tugs, the FSRU arrived at the newly built jetty in Fortum's Inkoo port at about noon local time on Tuesday, according to its AIS data.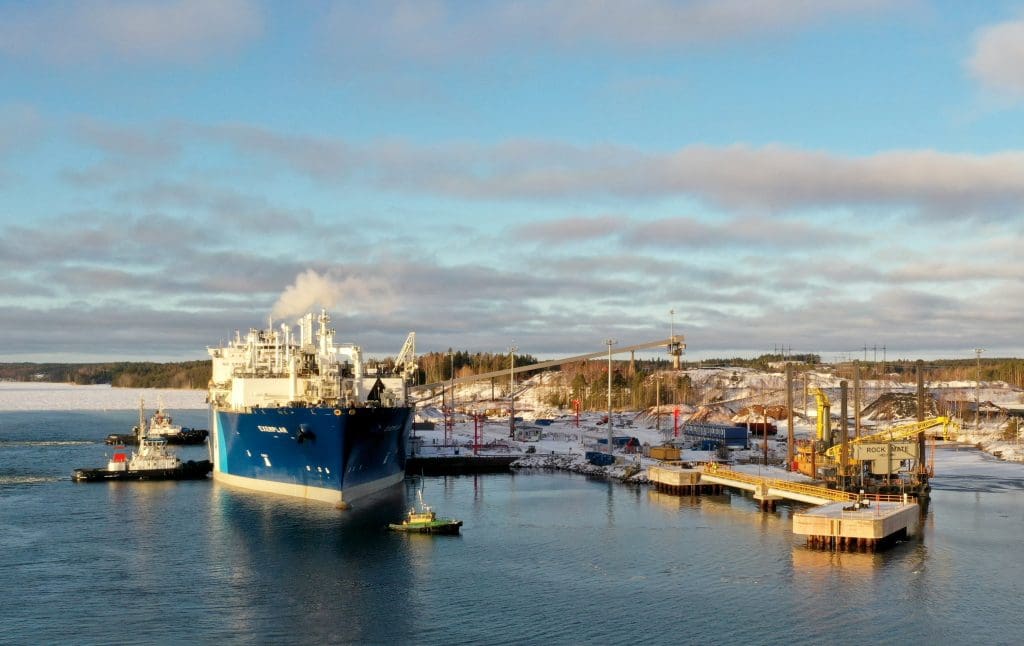 Gasgrid said last week that construction work on the port terminal had been completed in the deep harbor area in Inkoo.
The work began in August and the contract included the pier and mooring structures and systems needed by the FSRU as well as the construction of a 2.2 kilometers long gas pipeline.
Floating LNG Terminal Finland (FLTF), a unit of Gasgrid and the operator of the FSRU-based terminal, has already invited market participants to submit offers for a total of seven capacity slots for the first quarter next year and also for the April-September period.
Gasgrid expects to launch commercial operations at the facility in mid-January.
Commissioning cargo
Besides providing providing regasification services, Excelerate said in a separate statement later on Wednesday that its recently formed Finnish unit had signed a deal for the commissioning cargo.
The FSRU was previously loaded with a partial cargo of LNG which will serve as the initial commissioning cargo for the Inkoo terminal.
The vessel took the cargo sourced from Excelerate's global LNG portfolio via a ship-to-ship transfer with the FSRU Excelsior near Gibraltar, Excelerate said.
According to the firm, Excelerate Finland Gas Marketing has signed the deal for the sale of commissioning volumes and regasification capacity rights during the commissioning phase.
Through this agreement, Excelerate Finland would be able to provide natural gas to downstream customers in Finland and other Baltic countries, Excelerate said.
(Article updated to include a statement by Excelerate Energy.)