The 170,000-cbm FSRU Hoegh Gannet, which serves the Elbehafen LNG import terminal in Germany's Brunsbuettel, received its first LNG carrier on Tuesday.
Adnoc's LNG carrier Ish docked on Tuesday morning CET time at the FSRU Hoegh Gannet located in Brunsbuettel, its AIS data shows.
The 1995-built 137,315-cbm vessel, which was converted to a floating storage unit (FSU), is carrying a cargo from Adnoc's Das Island LNG plant and has been located offshore Brunsbuettel since January.
A spokesman for RWE confirmed the arrival of the LNG carrier later on Tuesday.
This is the first LNG tanker to dock at the FSRU-based facility at Brunsbuettel's Elbehafen port and the first LNG cargo to land in Germany from the Middle East.
Last year, RWE and Adnoc signed a deal for this LNG delivery and a memorandum of understanding on several years of LNG supplies to be delivered to Germany from 2023.
Prior to arriving at Brunsbuettel's Elbehafen port on January 20, the 2018-built FSRU picked up a partial cargo at Reganosa's Mugardos LNG import terminal in the Ferrol port in Spain.
The vessel, which the German government chartered from Hoegh LNG, will initially operate at the Brunsbuettel Port's existing dangerous goods berth.
From the end of 2023, the FSRU will be moved to a new jetty to the west of the Elbehafen and this jetty will be built and operated by Brunsbuettel Ports.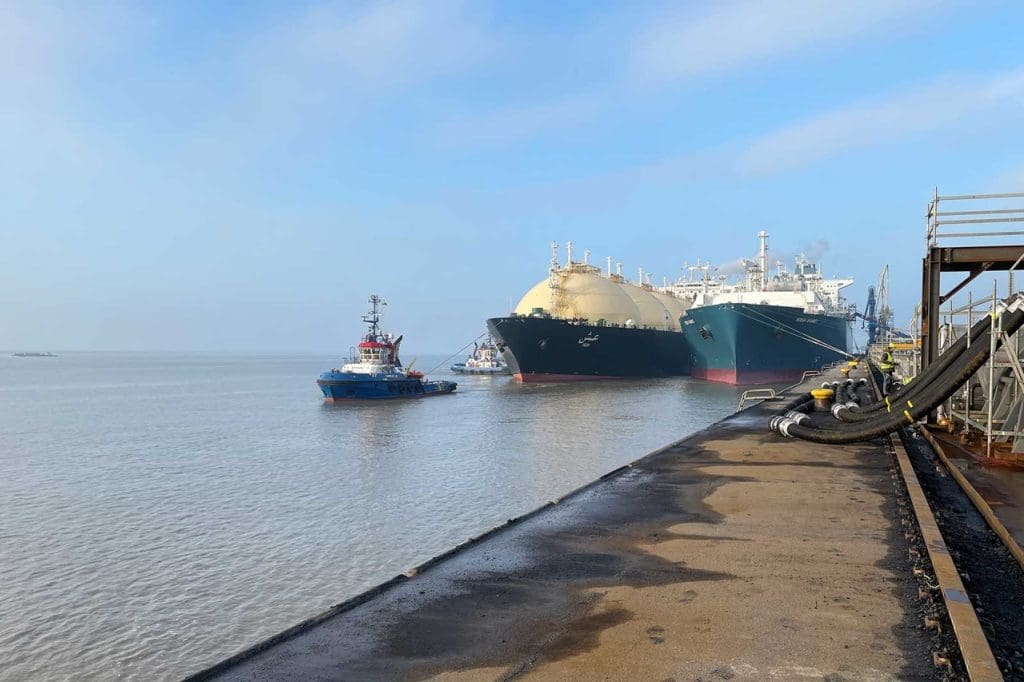 First gas supplies to grid by end of February
RWE, the developer of the government-backed project, temporarily moved the FSRU to a location offshore Brunsbuettel during the commissioning phase.
The RWE spokesman told LNG Prime on January 31 that the firm expected the FSRU Hoegh Gannet to return to Brunsbuettel in the beginning of February and to receive the commissioning cargo.
However, the spokesman said at the time that coordination with the unloading of other ships and weather conditions could affect this schedule.
Prior to returning to Brunsbuettel's Elbehafen port, Hoegh Gannet was located at Cuxhaven, the AIS data shows.
"We are currently in the commissioning and trial operation phase, which will last several weeks. We expect to be able to feed the first small quantities of gas into the gas grid by the end of February," the spokesman said on Tuesday.
"As more components of the newly constructed technical infrastructure and hot water supply are connected, the gas volume will increase continuously and the FSRU will go into regular operation," he said.
The Elbehafen LNG terminal will be the third operational FSRU-based terminal in Germany and the second out of five backed by the German government after the Wilhelmshaven facility.
Last month, Deutsche Regas officially launched its FSRU-based LNG import terminal in Lubmin, Germany's second such facility and the first private terminal.
The five government-backed FSRUs will be operated by new state-owned firm Deutsche Energy Terminal GmbH.
(Updated with a statement by an RWE spokesman.)