Germany's first FSRU-based LNG import facility in Wilhelmshaven is now ready to welcome Hoegh's vessel in December following the completion of the terminal's jetty.
Niedersachsen Ports (NPorts) confirmed the completion of the jetty in a statement issued on Tuesday.
The jetty was completed in just 194 days, NPorts said.
Adding to the existing cargo handling facility, a docking platform and dolphins with rubbing paunches as well as mooring dolphins were constructed for the berth.
This is the location, where in just one month from now in mid-December, the first FSRU, can be docked, it said.
NPorts said it had handed the port infrastructure over to Uniper that simultaneously begun to construct a connection between the FSRU and the facilities ashore.
In addition, Open Grid Europe is building the connection to the natural gas pipeline system 28 kilometers away and thus also to the Etzel natural gas storage facility.
FSRU Hoegh Esperanza
The Wilhelmshaven LNG facility will feature Hoegh's 2018-built 170,000-cbm, FSRU Esperanza, that is currently in Damen's yard in Brest, France, according to its AIS data provided by VesselsValue.
Uniper, on behalf of the government, is developing the first LNG import terminal in Wilhelmshaven at the Voslapper Groden transshipment facility.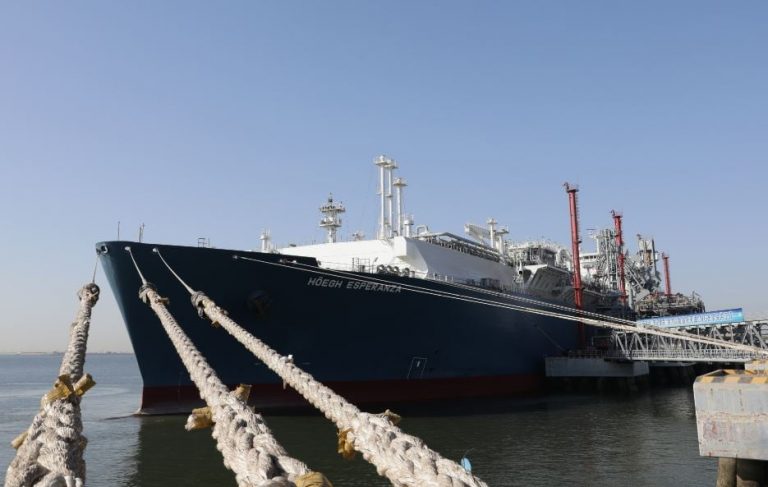 Once online, the facility will handle up to 7.5 billion cubic meters of natural gas per year.
The firm said in May it had started works on this facility in which it would invest about 65 million euros ($67.6 million) and after that confirmed the launch of the terminal for this winter, as the country looks to cut reliance on Russian gas.
It also recently awarded Lithuania's LNG terminal operator KN a contract to provide operational services for the FSRU-based LNG terminal.
Germany to become major LNG importer
This facility and RWE's Elbhafen LNG terminal in Brunsbuettel would become the country's first floating LNG import terminals, and would be joined by three other facilities next year.
Germany is financing the charters of in total five FSRUs. These include the two units RWE chartered from Hoegh LNG, the two Dynagas units chartered to Uniper, and Excelerate's FSRU chartered by Engie, TES, and E.ON.
Besides these government-backed units, Deutsche ReGas is also working on the first private German FSRU-based facility in Lubmin and expects to launch it in December this year.