German energy firm Uniper said on Thursday that the 170,000-cbm FSRU Hoegh Esperanza had arrived in Wilhelmshaven where it will soon start serving Germany's first LNG import terminal.
"The arrival of the FSRU marks an important milestone shortly before the opening of Germany's first LNG terminal on December 17, 2022," Uniper said in a statement.
Hoegh LNG said earlier on Thursday it signed a binding 10-year time charter contract with the German government for the FSRU Hoegh Esperanza.
The FSRU will be operated by Uniper acting as agent on behalf of the German Federal Ministry for Economic Affairs and Climate Action.
Prior to arriving in Wilhelmshaven, the FSRU took a cargo in Spain at the Saggas regasification plant in Sagunto operated by Enagas.
Uniper said the shipment of 165,000 cbm of LNG is enough to supply around 50-80,000 German households for a year.
In future, Hoegh Esperanza would feed at least five bcm of natural gas into the German gas grid each year.
That is around six percent of Germany's gas demand, and would thus replace around eleven percent of Germany's gas imports from Russia, Uniper said.
Uniper expects first LNG tanker to dock at the FSRU in early January.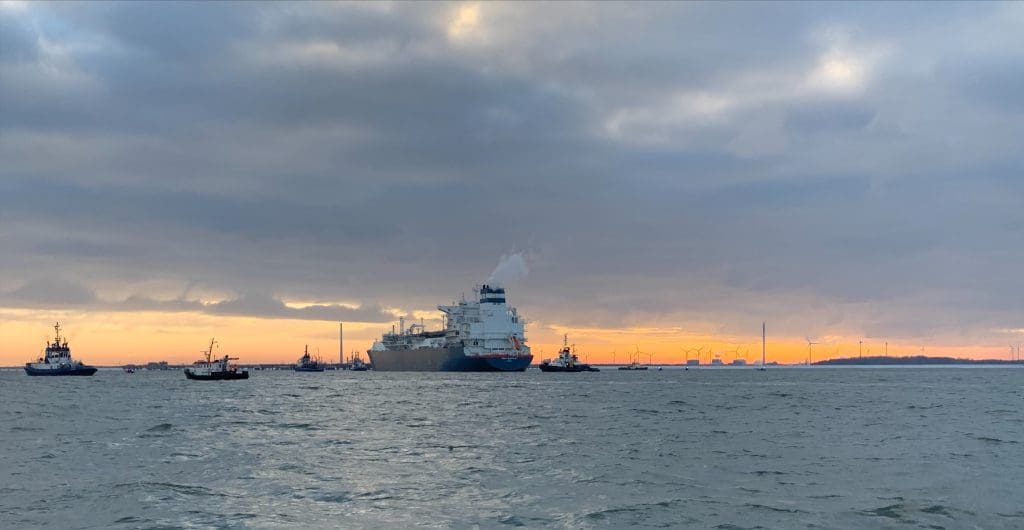 "There is still a lot to do before the first gas can flow in a few days. Nevertheless, after ten months of intensive work, it is a great moment to see the Hoegh Esperanza dock here," Holger Kreetz, COO asset management at Uniper, said in the statement.
"Only the good, determined cooperation between the companies, authorities and politicians has made this speed, which we should use as a blueprint for the energy transition, possible," he said.
First of six FSRU-based terminals
The Wilhelmshaven facility is the first of six FSRU-based terminal in Germany that are expected to go online by the end of 2023 as the country looks to replace Russian pipeline gas supplies.
The government backed the charter of five FSRUs while Deutsche ReGas is developing the first private FSRU-based facility in Lubmin.
German energy firm RWE is also expecting to receive the first commissioning cargo at the Elbhafen FSRU-based LNG import terminal in Brunsbuettel in January. This terminal will also feature Hoegh's vessel, Hoegh Gannet.
In addition, Deutsche ReGas announced last month the arrival of the 2009-built 145,000-cbm FSRU Neptune in the Mukran Port on the island of Ruegen but the company is still awaiting to receive two approvals.
Depending on the approvals, the Lubmin facility would become the second operational terminal in Germany, followed by the Brunsbuettel facility.
The three other FSRU-terminals are expected to go online later in 2023.