Greece's Gastrade has officially started building its FSRU-based LNG import project in Alexandroupolis following the final investment decision earlier this year.
Gastrade's shareholders include founder Copelouzou, DESFA, DEPA, GasLog, and Bulgartransgaz.
According to a statement, a ceremony was held on Wednesday in Alexandroupolis to officially kick off the construction of the project.
Besides the shareholders, the prime ministers of Greece, Bulgaria, North Macedonia, as well as the presidents of Serbia and the European Council and other officials attended the ceremony.
With this project, Greece will get its first FSRU and the second LNG import facility, adding to DESFA's import terminal located on the island of Revithoussa.
Greece's first FSRU will connect to the gas grid via a 28 km long pipeline to supply the markets of Greece, Bulgaria and the wider region, including Romania, Serbia, North Macedonia, with the prospect of supplying Ukraine as well, DESFA said.
To remind, shareholder and LNG shipping firm GasLog told Singapore's Keppel Offshore & Marine earlier this year to proceed with the conversion of the 153,600-cbm LNG carrier GasLog Chelsea to an FSRU.
DESFA said Alexandroupolis FSRU would strengthen the strategic role of Greece as an energy hub for the wider region of Southeastern Europe and would offer alternative sources and gas supply routes to the region, enhancing energy security of supply and energy autonomy, during "challenging times".
The partners expect to launch the terminal by the end of 2023, with the contracted regasification capacity already reaching up to 60 percent of its 5.5 bcm capacity, DESFA said.
Also, the project has a price tag of 363.7 million euros ($382.8 million).
European energy independence
The president of the European Council, Charles Michel, said the Alexandroupolis FSRU would help to, "diversify our gas supply, to bolster our energy infrastructure and to phase out our dependence on Russian fossil fuels."
"I firmly believe we are seeing a new dawn for European energy independence. And we see clear evidence of that new future here today in this city with this new LNG terminal," he said.
In addition, he said the terminal would do more than just help the EU to become more energy independent.
It would also drive forward "our long-term climate goals because it is capable of switching to hydrogen as the technology evolves," Michel said.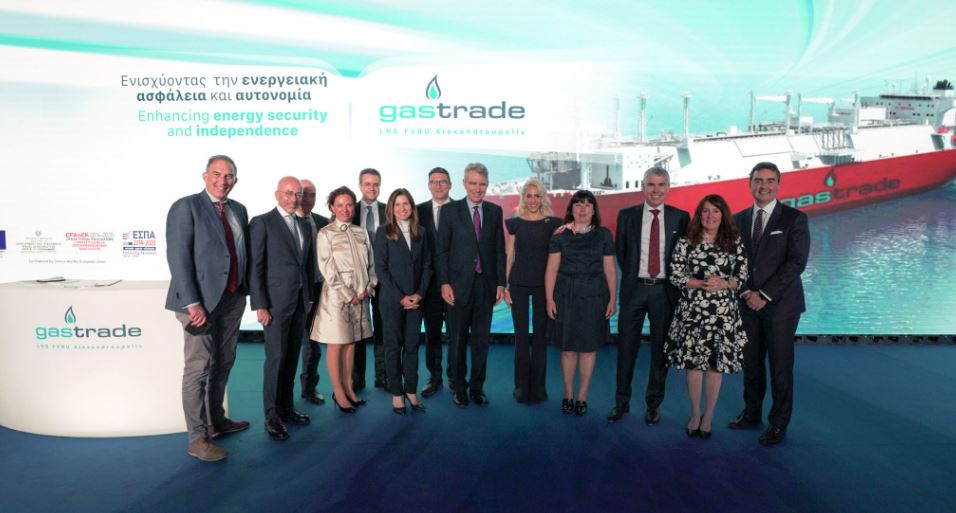 Gastrade's second FSRU
As reported by LNG Prime in March, Gastrade is planning to install a second FSRU offshore Alexandroupolis.
The new project named "Thrace INGS" would consist of a 170,000-cbm FSRU located in the Thracian Sea, offshore Alexandroupolis.
Furthermore, the FSRU would be able to deliver up to a maximum of 22.7 million cubic meters per day or 5.5 bcm of natural gas per year.
According to the DESFA statement on Wednesday, Gastrade won a license from the Regulatory Authority for Energy of Greece (RAE) for the project last week.
Three more FSRU projects
Besides these two FSRU-based developments, Greece could get three more such projects as well.
Dioriga Gas, a unit of Motor Oil, is looking to develop another FSRU-based import project in Greece's Gulf of Corinth, while Greece's Mediterranean Gas, the developer of an FSRU-based import project which includes ExxonMobil, recently received approval for its planned development in the port of Volos.
In addition, Elpedison, a power firm owned by Greece's Hellenic Petroleum and Italy's Edison, recently revealed plans to install an FSRU off Thessaloniki.