Knutsen, Enagas, and Shell have officially launched the 5,000-cbm LNG bunkering ship, Haugesund Knutsen, in the Spanish port of Barcelona.
Last month, Norwegian shipowner Knutsen took delivery of this LNG bunkering vessel from Spain's Armon Gijon saying this is the first small-scale LNG vessel ever built in Spain.
Knutsen partnered with Enagas' small-scale unit, Scale Gas, on the newbuild that will go on charter to LNG giant Shell and will operate from the port of Barcelona.
The partners held a ceremony in the port of Barcelona on February 2 to present and launch the vessel, according to a statement by Enagas.
In addition to the launching, this event also presented the adaptation of the small-scale LNG jetty of the Enagas-operated LNG regasification plant in Barcelona.
This adaptation of the jetty is one of the actions included in the +SE Plan of the government, it said.
According to Enagas the seven regasification plants in Spain are already adapted to supply LNG to ships, as well as most ports. In 2022, a total of 13 ports in Spain supplied LNG to ships.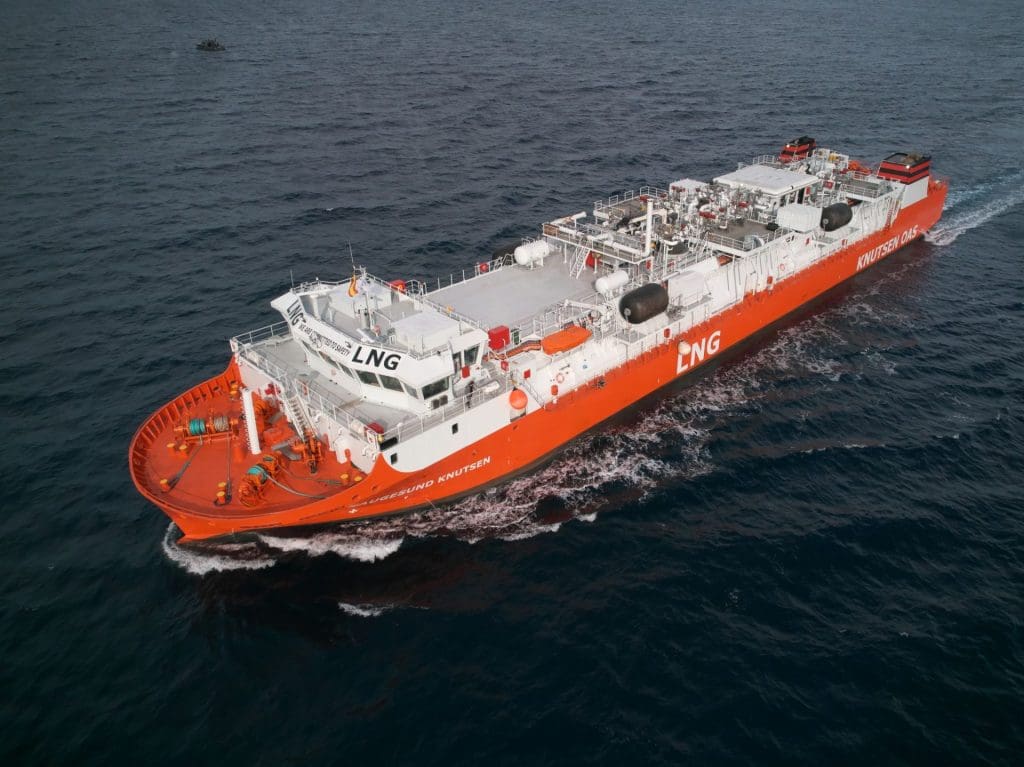 Besides supplying LNG, the 92.75 meters long Haugesund Knutsen, with a beam of 16.90 meters and a draught of 4.25 meters, also runs on liquefied natural gas.
Italy's Gas and Heat supplied two 2,500-cbm bilobe type C tanks for the vessel that can supply 1,000 cbm/h of LNG.
The construction of the ship is part of the European Union transport aid program 'Connect Europe' (CEF), which has allocated 9 million euros ($9.7 million) for its execution, and has been possible thanks to the developments and progress made by the initiatives public-private 'CORE LNGas hive' and 'LNGhive2', in which 49 partners participate (21 public, including 13 port authorities, and 28 private or industrial), Enagas said.