The European Union plans to significantly slash Russian pipeline gas supplies this year by boosting imports of LNG, filling up gas storages, and increasing renewables, according to a new document released by the European Commission on Tuesday.
According to the Commission, the plan named RePowerEU would "make Europe independent from Russian fossil fuels well before 2030, starting with gas, in light of Russia's invasion of Ukraine."
The EU imported 155 bcm of gas from Russia last year, including LNG.
By diversifying gas supplies, via higher LNG imports and pipeline imports from non-Russian suppliers, and higher levels of biomethane and hydrogen, Europe could replace 100 bcm of Russian gas imports or some two-thirds by the end of 2022, the Commission said.
Half of this would come from LNG imports as the EU could import 50 bcm more of LNG from Qatar, USA, Egypt, West Africa on a yearly basis, it said.
Last year, USA, Qatar, and Russia supplied most of the LNG shipments to Europe, accounting for almost 70 percent of Europe's total LNG imports.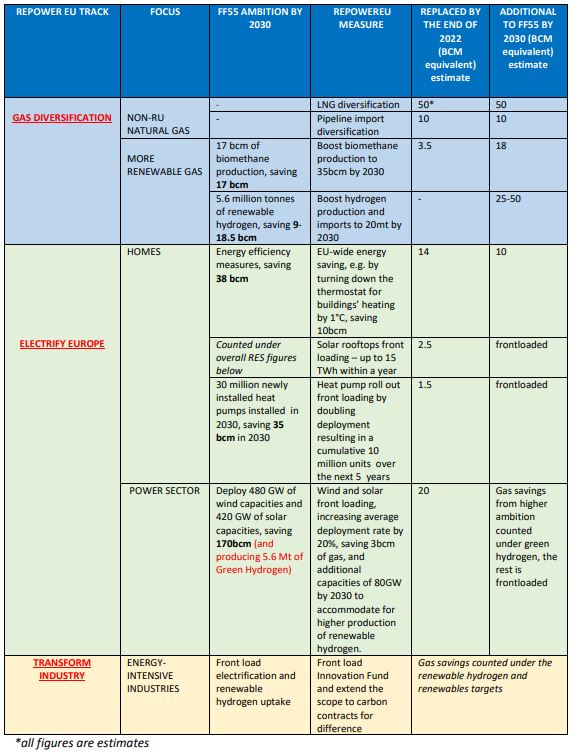 Talks with major gas buyers
In addition to LNG, diversification of pipeline sources from countries such as Azerbaijan, Algeria, and Norway could deliver another 10 bcm of yearly savings on Russian gas imports, the Commission said.
The Commission said it would assess as a matter of priority whether "measures and investments are needed in hydrogen-ready gas infrastructure and interconnections to overcome bottlenecks to
the full use of the EU's LNG capacity."
"While diversifying supply, the EU fosters its international partnerships. The Commission will
continue discussing within G7 and with major global purchasers of gas (Japan, South Korea,
China, India) medium-term market developments," it said.
Besides LNG and pipeline gas imports, the Commission said it would make a legislative proposal by April so as to ensure an annual adequate level of storage.
This proposal would require EU countries to fill existing storage infrastructures up to at least 90 percent of their capacity by October 1 each year, it said.