Germany's Meyer Werft has floated out the LNG-powered vessel, Carnival Jubilee, owned by Miami-based Carnival Cruise Line, a unit of Carnival.
The 344.5 meters long newbuilding floated of the covered building dock at Meyer Werft in Papenburg on July 22.
Carnival Cruise Line said in a statement that during the float out the vessel revealed an important feature of its design: a Texas star displayed on the bow.
The Texas star on Carnival Jubilee's bow is a symbol of Carnival Cruise Line's commitment to the Port of Galveston, it said.
Now, Carnival Jubilee moves into its next phase of construction alongside the shipyard's outfitting pier.
Over the weekend, Carnival Jubilee will briefly cast off from the pier to conduct various tests on the bow thrusters and stabilisers, while sea trials are scheduled for November, Carnival Cruise Line said.
The ship will sail year-round on Western Caribbean itineraries beginning in late December – though the vessel will not be the first Carnival Jubilee to sail from Galveston.
Like her sisters, the ship shares a name with a classic Carnival ship, and the first Carnival Jubilee sailed from Galveston in 2002.
The new Carnival Jubilee is four times larger than her predecessor.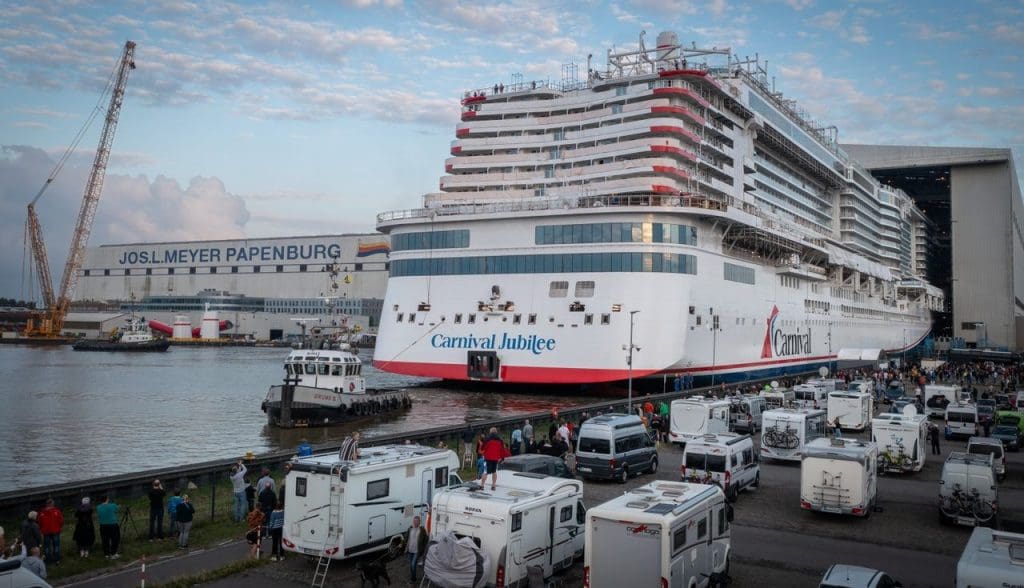 The Papenburg-based shipbuilder started building this LNG-powered ship in March last year and held a keel-laying ceremony in July.
In December last year, Meyer Werft delayed delivery of the LNG-powered vessel for about two months due to supply chain logistics and related matters.
The vessel is part of Carnival's Excel-class design first delivered by the Meyer Turku shipyard in Finland.
Meyer Turku delivered Mardi Gras in 2020, followed by Carnival Celebration in 2022.