Italy's Snam has received the first LNG tanker at its FSRU-based LNG import terminal in the port of Piombino as part of the commissioning phase.
The 2021-built, Maran Gas Kalymnos, owned by Greece's Maran Gas and chartered by Italy's Eni, docked at the 170,000-cbm Golar Tundra on Friday, according to its AIS data provided by VesselsValue.
Maran Gas Kalymnos is loaded with a cargo from the Eni-operated Damietta LNG export plant in Egypt, the data shows.
Snam and Eni confirmed the arrival of Maran Gas Kalymnos later on Friday.
Eni said it has booked regasification capacity at the FSRU-based facility as part of its strategy to diversify LNG supplies to Italy through its internationally produced equity gas.
According to Snam, the LNG carrier will first unload about 70,000 cbm of LNG into Golar Tundra's tanks.
Around a few weeks later, the LNG carrier will return to the port to be moored again at the FSRU to offload the remaining 90,000 cbm of LNG for the final testing phase which involves checking the performance at different regasification profiles.
"Some 90 percent of the cargo will be fed into the grid for domestic consumption while the remaining 10 percent will be used to ensure the vessel's operability," it said.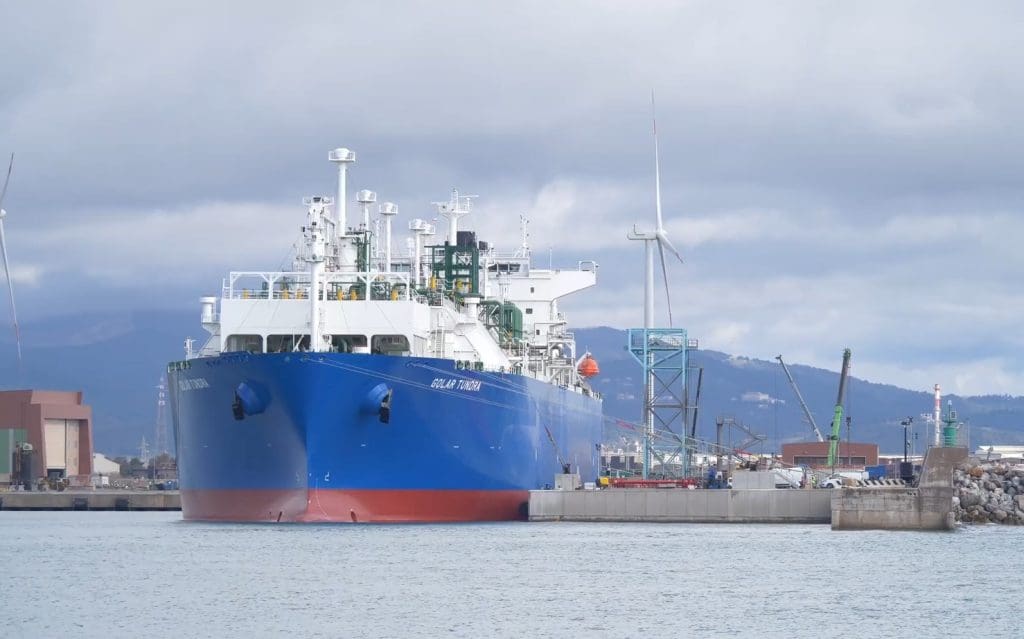 Second FSRU-based facility in Italy
Snam purchased Golar Tundra with a regasification capacity of 5 bcm from Golar LNG last year for $350 million, and the unit arrived in Piombino from Singapore in March.
FSRU Italia, a unit of Snam, has already allocated more than 86 percent of the offered regasification capacity following the first allocation procedure and recently offered the remaining quantities as well.
Snam's chief executive Stefano Venier confirmed in March the that firm is still expecting to launch the FSRU-based LNG import terminal in May.
This facility will be the fourth large LNG terminal in Italy and the second FSRU-based facility.
Last year, Snam also bought one FSRU from BW and signed a deal to convert LNG carrier Golar Arctic into an FSRU.
Snam plans to employ the 2015-built FSRU BW Singapore to serve the facility off Ravenna.
The company owns the Panigaglia facility and has stakes in the FSRU Toscana and the Adriatic LNG import terminal.
(Article updated with statements by Snam and Eni.)