Spot charter rates for the global liquefied natural gas (LNG) carrier fleet continued to rise this week as positive NWE floating storage economics for October ties up vessels, according to Spark Commodities.
Last week, LNG freight rates rose in both basins with the Spark30S Atlantic rate rising $22,250 to $160,000 per day and the Spark25S Pacific rising $24,000 to $167,250 per day.
"Spark30S Atlantic increased by $22,750 to $182,750 per day this week, and the Spark25S Pacific increased by $20,500 to $187,750 per day," Henry Bennett, Spark's head of pricing, told LNG Prime on Friday.
"Spark estimates that a 2 Stroke 174k vessel in NWE in October would be $42,000 per day better off floating until November before delivering into NWE, rather than delivering immediately in October," he said.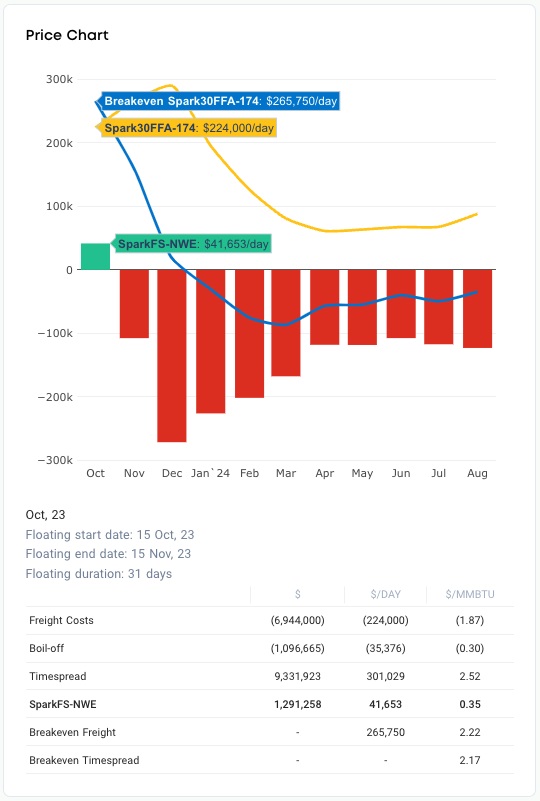 As per European LNG pricing, SparkNWE DES LNG front month increased from the last week.
Last week, NWE DES LNG for October loadings was assessed at $9.731 per MMBtu, a $0.545 discount to the October TTF price.
"The front month SparkNWE for October deliveries increased by $0.827 to $10.558/MMBtu this week," Bennet said.
The TTF price for October settled at $11.149 per MMBtu on Thursday, while the JKM spot LNG price for October settled at $13.365 per MMBtu.
Natural gas prices have been volatile since the last month due to uncertainty about Australian LNG supplies amid the potential for strikes.
Woodside and unions representing its workers at North West Shelf offshore gas platforms reached an agreement last month.
However, workers at Chevron's Gorgon and Wheatstone LNG plants have started protected action on Friday last week after talks between the energy giant and unions ended without an agreement.
Chevron's unit in Australia is also working to resume full production at its 8.9 mtpa Wheatstone LNG terminal near Onslow following a fault which has impacted about 25 percent of the plant's production.
The Gorgon LNG plant on Barrow Island has three trains and a production capacity of some 15.5 mtpa.
US LNG exports also dropped in the week ending September 13 to 18 cargoes as the Freeport LNG terminal shipped only one cargo.
The facility shipped four LNG cargoes in the week before, according to the Energy Information Administration.