Spot charter rates for the global liquefied natural gas (LNG) carrier fleet continued to rise this week ahead of winter, with the Pacific rate rising $100,000 per day for the first time since early January, according to Spark Commodities.
Last week, LNG freight rates continued their upward trend with the Atlantic Spark30S increasing to $90,250 per day and the Pacific Spark25S rising to $85,750 per day.
"Spot LNG freight in the Pacific broke $100,000 per day for the first time since early January, with the rate on the Spark25 route assessed at $108,500 per day today," Spark's CEO Tim Mendelssohn told LNG Prime on Friday.
He said that the seasonal rally in freight rates comes a month earlier than last year, when rates in the Pacific only broke $100,000 per day in mid-September.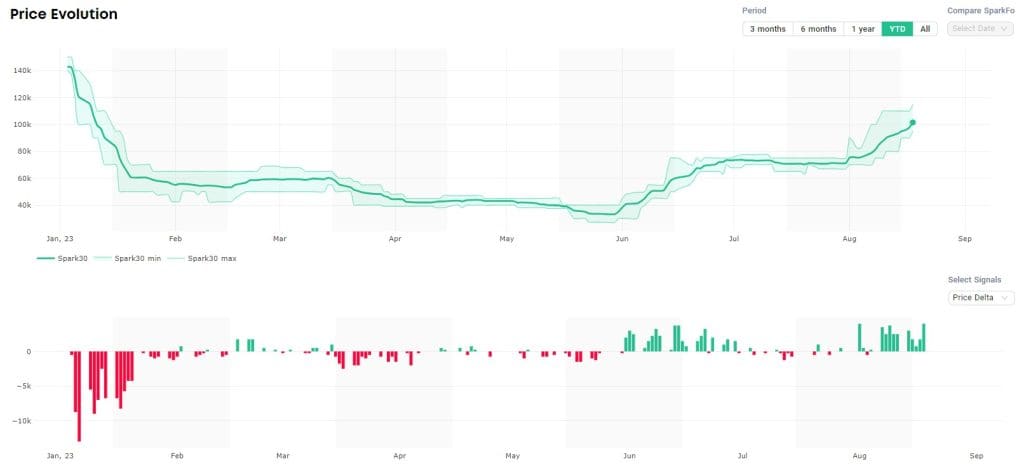 "Spot freight in the Atlantic is following the Pacific closely, with the spot rate on the Atlantic Spark30 route standing at $101,500 per day today," he said.
As per European LNG pricing, SparkNWE for September deliveries widened from the prior week.
"The SparkNWE DES LNG differential to the TTF for September deliveries moved to $(0.190) per MMBtu, widening from just $0.075 per MMBtu a week ago, with an implied outright of $11.562 per MMBtu," Mendelssohn said.
The TTF price for September settled at $11.826 per MMBtu on Thursday, while the JKM spot LNG price for October settled at $14.160 per MMBtu.
News of potential strikes at three Australian LNG terminals boosted the TTF price by 28.2 percent last Wednesday.
The Woodside-operated North West Shelf and the Chevron-operated Gorgon and Wheatstone LNG projects in Western Australia have a combined capacity of about 40.8 million tonnes of LNG per year and these terminals mostly supply Japan and South Korea.
According to Offshore Alliance, the Chevron Wheatstone downstream and Gorgon facility protected industrial action ballots opened on Friday and the Wheatstone platform ballot opens on Monday.
If successful, the alliance can decide whether to go ahead with the action.