Germany-based TGE Gas Engineering and a Polish unit of Austrian PORR Group are preparing to raise the roof on the third LNG tank at Gaz-System's import facility in Swinoujscie.
The new 180,000-cbm tank is part of the expansion project that will boost the current regasification capacity of the first and only LNG terminal in Poland by 50 percent.
In 2020, Gaz System picked the consortium consisting of PORR Polska and TGE Gas Engineering, part of China's CIMC, to perform the expansion works.
The deal with the consortium has a price tag of about 448 million euros ($505 million) and includes both onshore and offshore works. The duo will build a second jetty, regas facilities, and the third tank which is larger than the two existing 160,000-cbm tanks.
TGE said in a short update that the construction of the new LNG tank includes welding a "massive" amount of 393 steel plates and equipping them with 77 nozzles.
"We are planning the lifting of the roof with a total weight of 1.000 tons in spring 2022," the firm said.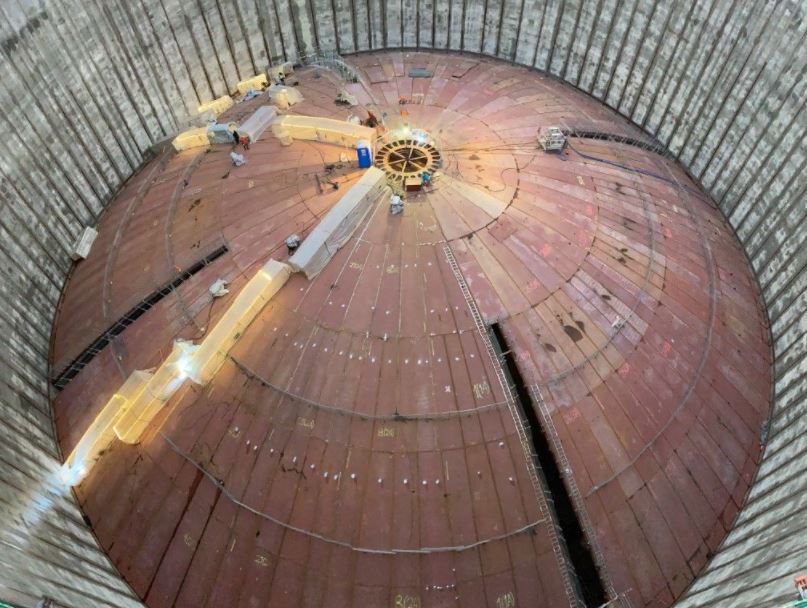 Once complete in 2023, the expanded terminal will have a total regasification capacity of about 7.5 bcm per year but it will also feature an LNG-to-rail installation extending the range of its services.
LNG imports continue to rise
Poland's dominant gas firm PGNiG recently said it received the 40th LNG delivery from the US at the regasification facility in Swinoujscie.
Besides marking the 40th US LNG cargo for PGNiG, this was also the 150th shipment to land at the Swinoujscie facility since 2016, according to the Polish firm.
PGNiG is in charge of all the supplies coming to the import terminal operated by Gaz-System.
The facility receives cargoes under PGNiG's long-term deals with Qatargas and Cheniere, and the spot market.
Out of the 150 shipments, 95 came from Qatar, 40 from the US, 13 from Norway, and one each from Trinidad and Tobago and Nigeria, PGNiG said.
As of 2023, PGNiG will start receiving additional contracted US LNG shipments at the facility.
In September last year, PGNiG finalized a deal to buy more LNG from US liquefaction plant developer Venture Global LNG.
Under the deal, the firm will purchase another 2 million mt on a free on board basis for 20 years.
As a result, PGNiG's contracted volume from Venture Global LNG will increase to 5.5 million mt or 7.4 bcm of gas per year.
Venture Global's Calcasieu Pass and Plaquemines LNG export facilities will supply the volumes while the first shipments should begin in 2023.