CGM CGM's second LNG-powered ultra large containership has arrived in France, after a month-long journey from China.
The CMA CGM Champs Elysees called on Friday at Terminal des Flandres at the Grand Port Maritime of Dunkirk.
Furthermore, this marks the arrival of the largest LNG-powered vessel ever to call in France.
The ship joins forces with the CMA CGM Jacques Saade, the CMA CGM flagship, on the French Asia Line (FAL 1), the route linking Asia with Europe, with a weekly call in Dunkirk.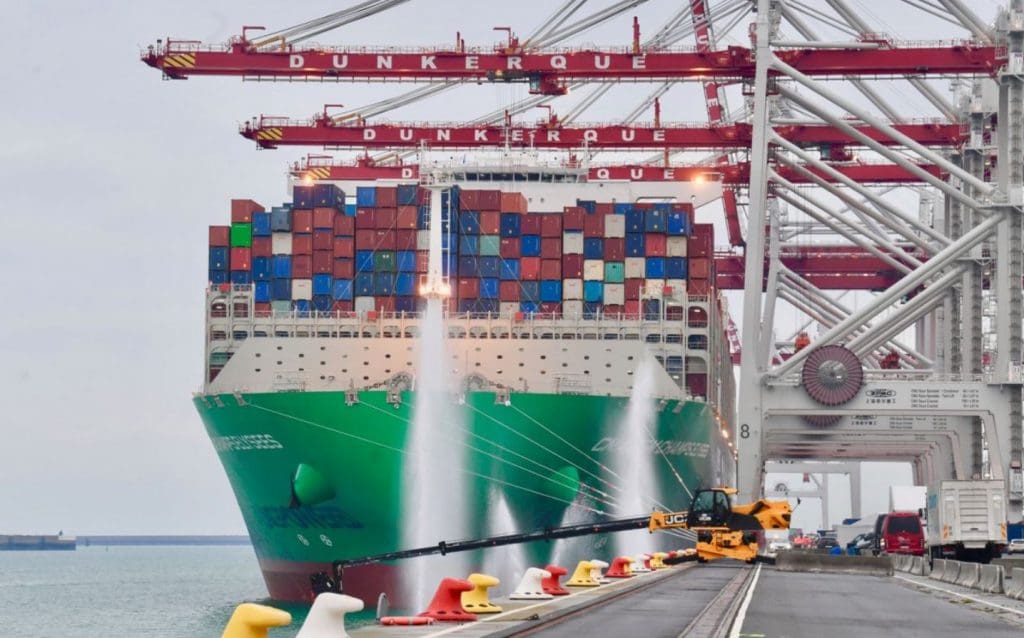 To remind, China State Shipbuilding Corporation's Jiangnan Shipyard delivered the 23,000 TEU ship to CMA CGM on October 27.
Jiangnan Shipyard and Hudong-Zhonghua, both units of CSSC, are building in total nine 23,000 TEU LNG-powered sister vessels for the French group.
Hudong is building five vessels, and already delivered two, while Jiangnan Shipyard is constructing four ships from this batch.
All of the ships will be 400 meters long and 61 meters wide, making them the world's largest vessels powered by LNG.
Furthermore, the ships feature WinGD's dual-fuel engines and GTT's 18,600-cbm fuel tank, both largest ever built. This LNG tank will allow these giants to make a round-trip on the Asia-Europe route with a single fill.
CMA CGM expects to take delivery of all of the 23,000 TEU vessels by the first half of 2021.
As previously said, the shipping group aims to have in total 26 LNG-powered vessels in its fleet by 2022 as it looks to comply with the new IMO standards and slash emissions.
These include chartered Eastern Pacific Shipping's 15,000 TEU containerships and smaller vessels of 1,400 TEU.