Classification society DNV has added 10 LNG dual-fuel ships and 22 methanol-powered vessels to its Alternative Fuels Insight platform last month.
The start of the year has been slow for LNG-powered newbuild orders after a record 2022 with 222 orders.
In January, DNV reported no orders for LNG-powered vessels.
With these 10 vessels in February, the total confirmed orders for LNG-powered ships reached 886 ships, according to Martin Wold, principal consultant at DNV.
Switzerland-based shipping giant MSC, which is working on a large fleet of LNG-powered vessels, booked these 10 containerships at China's Zhoushan Changhong International Shipyard.
On the other hand, South Korea's HMM and CMA CGM ordered these methanol-fueled containerships.
Wold said that methanol stole the spotlight with a record 22 ships ordered, and there are now 106 methanol-powered vessels on order.
So far this year, the total order figure for alternative fuel vessels stands at 34.
"Interest for methanol has been growing very quickly, and now this is materializing into firm orders. Being a well-established alternative for some time, we see that LNG is still gaining ground," Wold said.
"We expect continued growth for both fuel options as they have their distinct pros and cons depending on the segment. LNG offers immediate reduction of GHG, even when fossil LNG is used, at the expense of a higher capital investment," he said.
"Building a methanol-fueled vessel is less expensive, but green methanol will be needed sooner than green LNG and there is currently high uncertainty on future availability and prices," Wold said.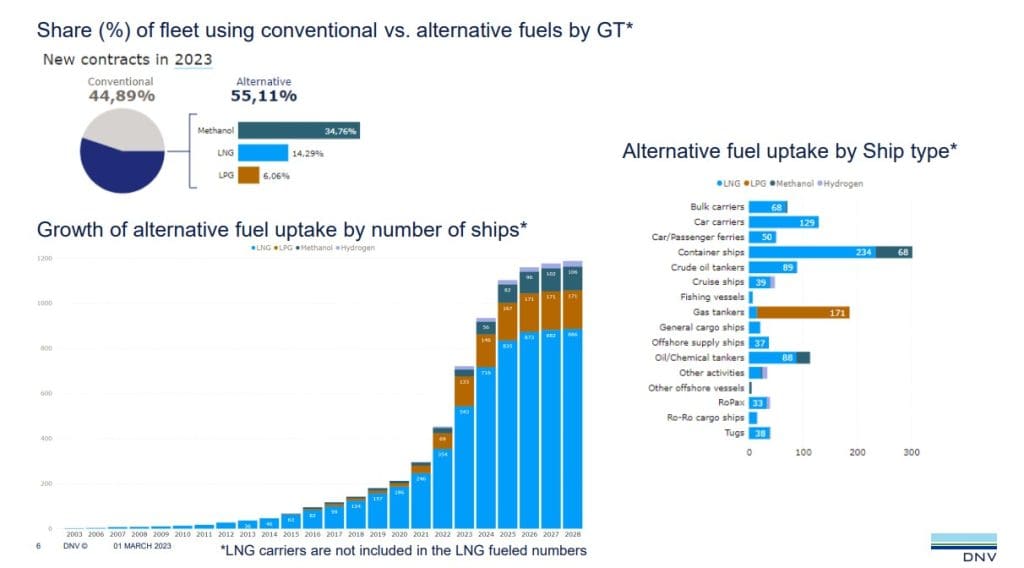 368 LNG-powered ships in operation
DNV's platform shows that 368 LNG-powered ships are already in operation, while owners placed orders for 518 LNG-fueled vessels.
LNG-powered crude oil tankers lead the way with 51 in operation, followed by 45 containerships, 44 oil/chemical tankers, and 43 passenger ferries.
As per vessels on order, LNG-powered containerships account for a big part of the orders with 189 units. Owners also ordered 118 car carriers, 47 bulk carriers, and 44 oil and chemical tankers.
These statistics do not include smaller inland vessels or dual-fuel LNG carriers.
43 LNG bunkering vessels and 171 LPG-powered ships
Besides LNG-powered vessels, there are 43 LNG bunkering vessels in operation and 20 on order, the platform shows.
In addition to 886 confirmed LNG-powered ships, there are also 171 LPG-powered ships, 106 methanol-fueled vessels, and 25 hydrogen-fueled vessels, according to the platform.