Classification society DNV has added eight more LNG dual-fuel ships to its Alternative Fuels Insight platform in October, mostly car carriers, as the newbuild market remains slow.
According to Martin Wold, principal consultant at DNV, the car carrier segment is fueling the growth this month, bringing the total number of LNG-powered ships in this segment to 112.
Last month, DNV reported 14 more LNG dual-fuel ship orders.
For the first time ever, orders for methanol-fueled ships outnumbered that of LNG this month, Wold said.
Maersk, Cosco Shipping, and OOCL combined ordered 18 large boxships this month, which would all be able to run on methanol, he said.
840 confirmed LNG-powered ships
DNV's platform shows that there are 324 LNG-powered ships in operation and 516 LNG-fueled vessels on order.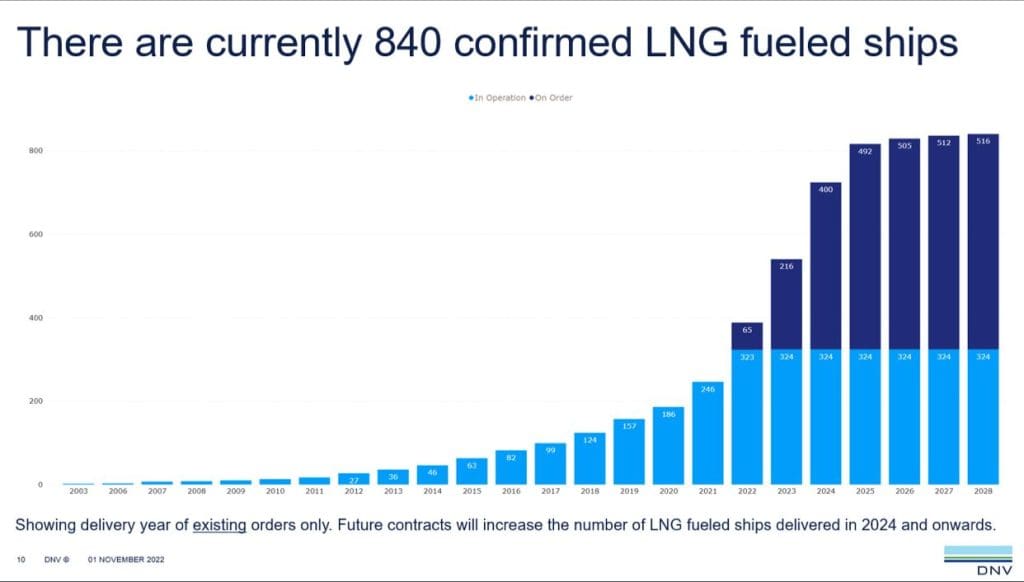 LNG-powered car and passenger ferries continue to lead the way with 42 in operation. The operational fleet also includes 41 oil/chemical tankers, 41 crude oil tankers, and 40 containerships.
As per vessels on order, LNG-powered containerships account for a big part of the orders with 171 units. Owners also ordered 102 car carriers, 53 bulk carriers, and 48 crude oil carriers.
These statistics do not include smaller inland vessels or dual-fuel LNG carriers.
Besides LNG-powered vessels, there are 40 bunkering vessels in operation and 21 on order, the platform shows.
In addition to 840 confirmed LNG-powered ships, there are 143 LPG-powered ships, 84 methanol-fueled vessels, and 25 hydrogen-fueled vessels, according to the platform.