Several firms have joined forces to complete what they say is the world's first bunkering of a ship with synthetic LNG in Germany.
Elbdeich Reederei's 1,036 TEU feeder container vessel ElbBlue, previously known as Wes Amelie, received 20 tons of carbon-neutral synthetic LNG in the port of Brunsbüttel, near Hamburg, according to a joint statement on Wednesday.
DP World's Unifeeder operates the LNG-powered vessel while MAN Energy converted the ship back in 2017 to dual-fuel power.
These three firms have partnered on the project over the last two years to launch the first marine trial of carbon-neutral liquefied SNG.
Liquind Marine, Wessels Marine, and Kiwi also participated in the project.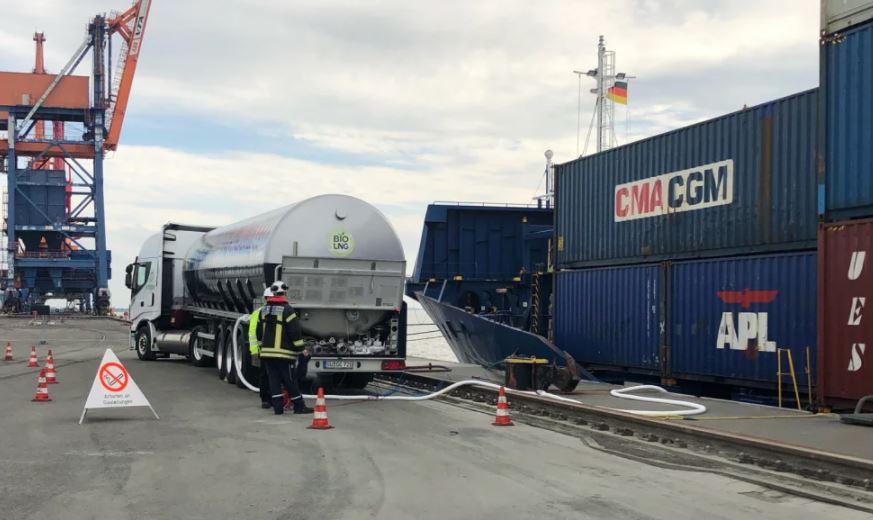 Kiwi's power-to-gas facility in Werlte, Germany produced the liquefied SNG, which is a synthetic form of LNG that is carbon-neutral and generated from 100% renewable sources, such as wind energy, the statement said.
The bunkering marked the first time ever that synthetic fuel – generated from 100% renewable energy via power-to-X technology – had been employed in commercial shipping, the partners said.
With a blend of 20 tons of SNG and 20 tons of conventional LNG, the vessel would save approximately 56 tons of carbon output on its coming voyage to St. Petersburg, as opposed to operating on 100% LNG, the statement said.
The partners hope to prove with the trial that renewable SNG and dual-fuel engines can reduce the shipping industry's carbon output.