Gas Natural Acu's LNG-to-power project in the Brazilian Port of Acu in Rio de Janeiro has received its first cargo from the US.
The 155,000-cbm Kmarin Emerald delivered the cargo from the Dominion Cove facility in Maryland to the FSRU BW Magna that serves as the project's import facility.
Moreover, the BP-chartered vessels arrived at the FSRU last week and the operation lasted about 118 hours, according to GNA.
GNA is a venture consisting of UK's energy giant BP, Germany's engineer Siemens, and Prumo. The Brazilian private firm is controlled by US-based EIG Global Energy Partners.
The joint venture is building the GNA I and GNA II LNG power plants located in Port of Acu.
These two plants have 3 GW of installed capacity, forming the largest gas-to-power project in Latin America. This capacity is enough to supply energy for up to 14 million households, according to GNA.
GNA will use this BP-supplied LNG cargo to fire up the first 1.3 GW power plant. The joint venture still expects to launch the plant in the first half of 2021.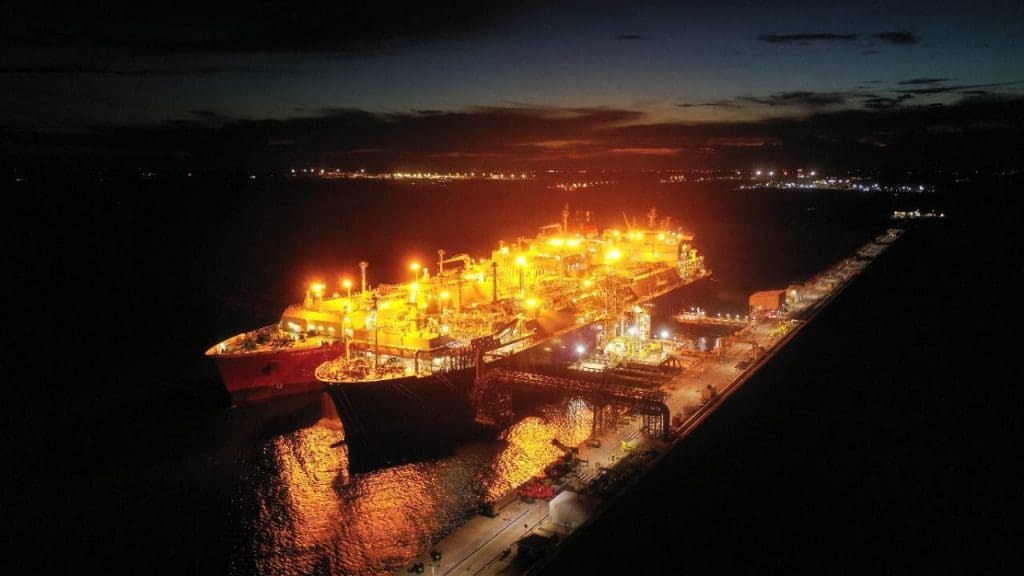 Second plant in 2023 with more planned
According to GNA, total costs for the entire complex would reach about 10 billion reais ($1.9 billion).
Besides the plants, the complex includes an LNG terminal with a total capacity of 21 million cubic meters per day.
To remind, BW LNG's FSRU BW Magna arrived in June this year in the Brazilian Port Acu to start its contract serving GNA's project.
Additionally, a unit of China's State Power Investment Corporation has in August signed a deal with GNA to buy 33% stake of the GNA I and GNA II LNG power plants.
GNA plans to launch the second 1.6 GW power plant in 2023.
Furthermore, the partners and SPIC also entered into a deal for two additional power plants planned for the project.
The Chinese firm aims to take part in GNA III and GNA IV. These units would both be fueled by LNG and domestic gas from Brazil's vast pre-salt reserves.