Greek liquefied natural gas imports via the Revithoussa terminal surged to record 78 LNG cargoes in 2022 due to significantly higher volumes from the US, according to DESFA.
Revithoussa played a vital role in the diversification of the energy supply sources of Greece and the wider region, receiving, for the first time since its launch, 78 tankers from 10 countries, DESFA, controlled by a consortium led by Italy's Snam, said.
The tankers unloaded a total amount of 39.19 TWh of LNG, compared to about 24.51 TWh from 35 tankers from 5 countries in 2021.
DESFA's LNG import terminal located on the island of Revithoussa received in total 60 vessels during the January-September period of last year, meaning that it welcomed 18 LNG carriers in the fourth quarter.
US LNG deliveries via the Revithoussa terminal surged by 63.5 percent to 20.10 TWh in 2022.
The US remained the largest LNG supplier to Greece with a 51.2 percent share of all LNG imports in 2022, DESFA said.
In second place were imports from Algeria (5.43 TWh), followed by Egypt (4.93 TWh), Nigeria (2.93 TWh), Norway (2.13 TWh), Russia (2.03 TWh), and Oman (1.03 TWh).
Cargoes below 1 TWh were also imported from Spain (0.43 TWh), Indonesia (0.11 TWh) and Cameroon (0.07 TWh), the Greek gas grid and LNG terminal operator said.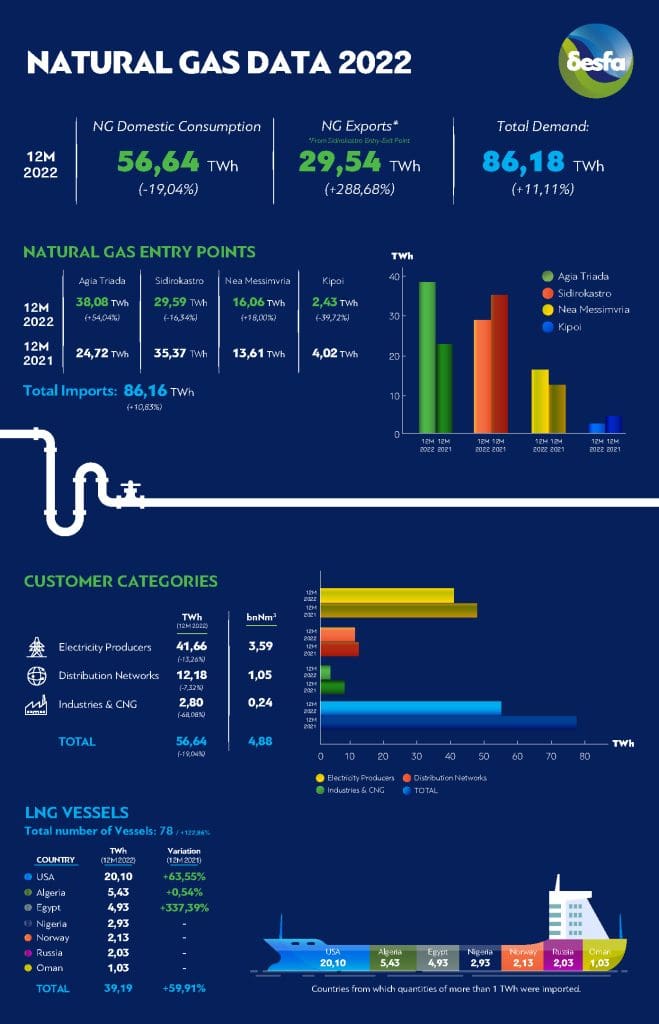 According to DESFA, 44.2 percent of all imported gas to Greece in the period under review, including pipeline gas, came via the Revithoussa terminal. The facility became the country's main natural gas entry gate during the last year.
Total gas imports amounted to 86.16 TWh, showing an increase of 10.4 percent from the year before.
Domestic consumption decreased by 19 percent to 56.64 TWh while there was a huge increase in natural gas exports by 288.6 percent to 29.54 TWh, mainly towards Bulgaria, DESFA said.
Last year, DESFA chartered GasLog's 2006-built LNG vessel, Methane Lydon Volney, to serve as a floating storage unit at the Revithoussa facility as part of plans to reduce the country's dependence on pipeline natural gas coming from Russia.
It also launched a truck loading station as it works on an integrated small-scale LNG supply chain in Greece.