Italian energy firm Eni said it will launch the first floating LNG production unit in Congo in December.
Officials from Eni and from Belgium's Exmar, Congo's SNPC, and Drydocks World gathered on Saturday to celebrate the sail away of the Tango FLNG and the Excalibur FSU from Dubai to the Republic of Congo, also known as Congo-Brazzaville.
Eni said in a statement the milestone aligns with the timeline of the Congo LNG project, whose first phase will startup in December 2023.
Moreover, Tango FLNG, which has a liquefaction capacity of about 1 billion cubic meters per annum of gas, or 0.6 mtpa, will be moored 3 kilometers offshore along with the Excalibur FSU vessel upon their arrival in Congo.
In August last year, Eni signed a deal to buy Exmar's Tango FLNG.
The floating LNG producer, delivered in 2017 by China's Wison, has a storage capacity of 16,100 cbm.
Exmar serves as the engineering, procurement and conversion (EPC) contractor for this project, and has designed the mooring system and performed the refurbishments on both vessels at Drydocks World yard in Dubai, the firm said in a separate statement.
Also, Exmar provides the Excalibur FSU on a long-term charter and will be responsible for all terminal operations on the Congo LNG project.
The Congo LNG project leverages Marine XII gas resources and existing production facilities in a new, phased approach that will allow to reach about 4.5 bcm per year of gas liquefaction capacity at plateau, as well as zero routine gas flaring, Eni said.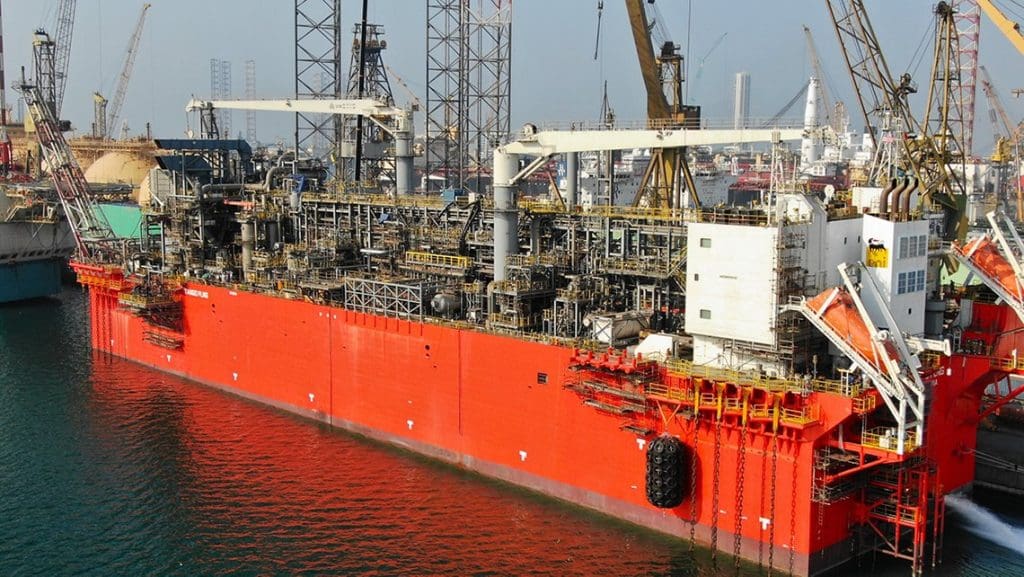 Two floating LNG producers
A second FLNG vessel with a capacity of about 3.5 bcm per year of gas, or 2.4 mtpa, is under construction in China and will begin production in 2025.
Wison Offshore & Marine won a contract from Eni in December last year to build a 380 meters long FLNG and officially started work on the project on January 17, 2023.
The unit will be able to store over 180,000 cubic meters of LNG. In August Wison completed the final assembly of what it says is the world's largest self-supporting prismatic shape IMO type B LNG tank.
Eni said the Congo LNG project will help Congo meet its energy needs while seizing the opportunity to exploit surplus gas through LNG production, allowing the country to join the group of global exporters of LNG in record time.
According to the agreements recently signed, all LNG produced will be marketed by Eni.