The Shell-led LNG Canada project has opened a huge accommodation center in Kitimat as it continues to progress work on the liquefaction facility.
Designed as a "self-sufficient, inclusive and safe environment" for a diverse workforce, Cedar Valley Lodge welcomed its first residents this summer, LNG Canada said in a statement.
The lodge will be be fully operational later this year with approximately 2,500 "heads in beds."
Furthermore, the 1.2 million square foot facility will ultimately accommodate 4,500 LNG Canada workers at a time.
During the lodge's design phase, LNG Canada and its contractor JGC-Fluor held consultations with several parties including Indigenous communities in British Columbia. This helped shape the accommodation's final design.
The lodge offers a complete array of amenities and services in one location—from onsite healthcare, to high-speed Internet service, expansive dining options, and a full range of leisure and recreational opportunities, LNG Canada said.
LNG Canada and JGC-Fluor hosted on August 20 a community preview, giving a small group of local First Nations, municipal leaders and media their first look inside the accommodation center.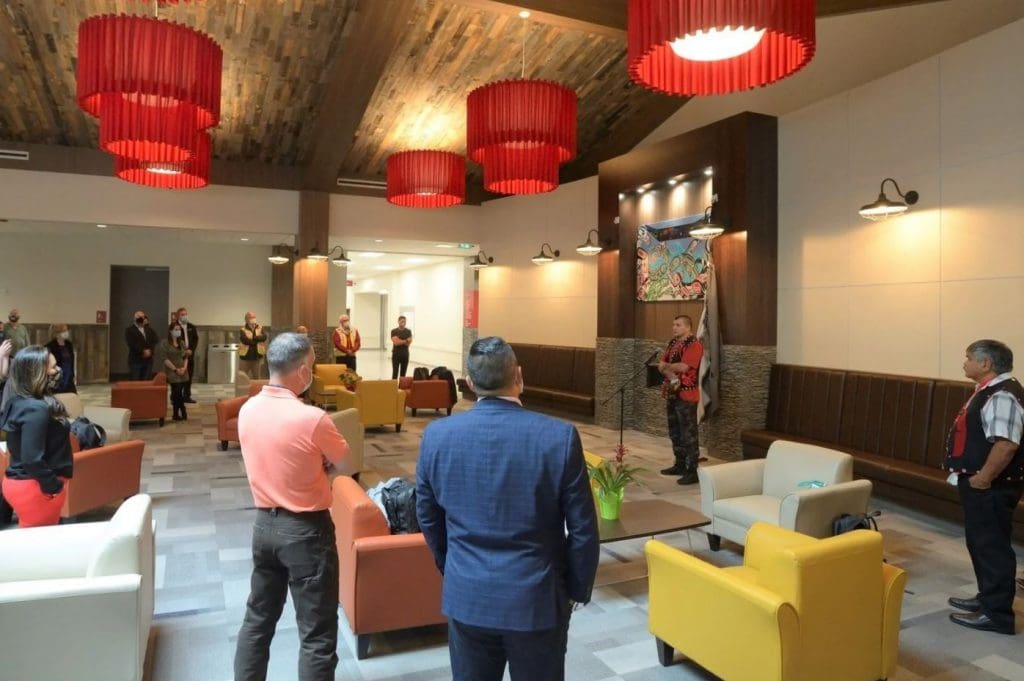 Covid-19 time
It's an "opportune time" to be opening the lodge, as the Covid-19 pandemic has understandably heightened concerns about workforce accommodation facilities.
"But this is not a typical lodge. No effort has been spared to ensure that the facility, its staff and its residents follow appropriate health and safety protocols," LNG Canada said.
For as long as required, the lodge will feature extraordinary, stringent measures to protect residents, staff and the community at large from the risk of Covid-19, it added.
To remind, the pandemic has already affected LNG Canada as the firm announced late March it would temporarily reduce workforce by 50 percent at the Kitimat site.
However, the firm and its contractor still expect to ship the first LNG cargo by the middle of this decade.
Shell and its joint venture partners have taken a final investment decision on this large LNG export project back in October 2018.
Besides Shell, LNG Canada partners include Malaysia's Petronas, PetroChina, Japan's Mitsubishi Corporation and Kogas of South Korea.
LNG Canada will initially include two trains with the capacity to produce 14 million tonnes of LNG per year.
The project, worth more than $30 billion, is one of the largest mega projects in Canadian history.