US LNG exporting giant Cheniere has revealed plans to increase the company's liquefaction capacity to about 90 mtpa as part of its "20/20 Vision" long-term capital allocation plan.
Cheniere's Sabine Pass plant in Louisiana now has six operational trains with a capacity of about 30 mtpa, while the firm took a final investment decision on Stage 3 expansion at its Corpus Christi LNG export plant in Texas.
The expansion will add about 10 mtpa to the three-train 15 mtpa Corpus Christi plant.
In addition to this, Cheniere is planning to build Corpus Christi midscale trains 8 and 9, each with a capacity of 1.64 mtpa, and one 220,000-cbm LNG storage tank.
Cheniere said on Monday that its near-term growth includes a platform of about 60 mtpa.
This entails the planned Corpus Christi midscale trains and the approved 10 mtpa project, as well as debottlenecking, it said.
According to Cheniere, the long-term growth targeting a 90 mtpa platform includes an expansion at the Sabine Pass facility and a fourth expansion phase at the Corpus Christi plant.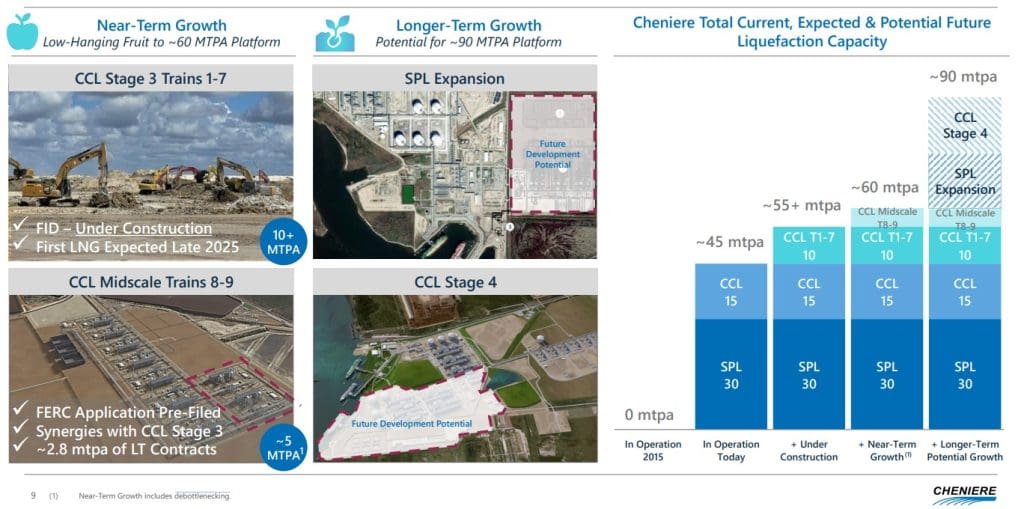 Raising guidance
Cheniere has again raised its 2022 financial guidance following a surge in its second-quarter earnings due to high demand in Europe.
Cheniere boosted 2022 consolidated adjusted Ebitda guidance by about $1.2 billion to $11-$11.5 billion.
This is due primarily to a "change in the expected timing of several cargoes accelerating into 2022 which were previously forecast for 2023 as well as sustained higher margins on LNG throughout 2022," it said.
Cheniere said it had reached a new cash flow inflection point and now expects to generate over $20 billion of available cash through 2026.