Italy's Edison and Norway's Knutsen held a naming ceremony for the small-scale LNG carrier Ravenna Knutsen.
The ceremony for the 30,000-cbm carrier took place in the Italian port of Ravenna on Monday, according to a statement by Edison.
Knutsen took delivery of this vessel from South Korea's Hyundai Mypo in February this year.
After that, the vessel completed the first delivery to the new small-scale LNG terminal in the port of Ravenna in September.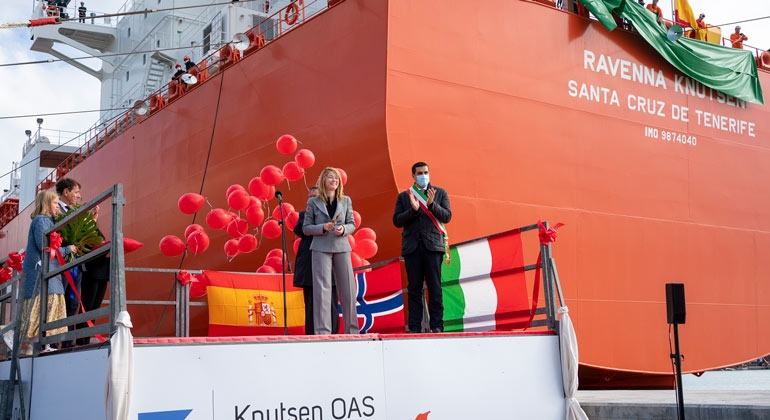 The newbuild is one of the world's first small and medium-scale LNG carriers to feature C-type bi-lobe cargo tanks. It features three 10,100 cbm tanks with low alloy 9% Ni steel.
Moreover, the 180 meters long vessel has WinGD dual-fuel propulsion as well as a boil-off gas reliquefaction system.
Edison chartered the ship from Knutsen for a period of 12 years. The vessel will serve the small-scale facility in Ravenna.
The Italian firm has a 30% stake while Enagas' unit Scale Gas owns a 19% stake in the joint venture that operates the project, Depositi Italiani GNL. Italy's PIR Group is the majority owner with a 51% stake.
Edison said it still expects the official launch of the Ravenna facility by the end of October.