Hong Kong-based Tiger Gas, led by former Seaspan CEO Gerry Wang, has taken delivery of the fourth and final LNG ISO tank carrier from China's Yangzijiang Shipbuilding
The shipbuilder said in a statement it handed over the vessel named Tiger Bintulu on June 28.
This ship follows the first CCS-classed vessel, Tiger Longkou, that joined Tiger Gas in January, followed by Tiger Maanshan in February, and Tiger Lianyungang in May.
These ships are the world's largest LNG tank carriers with a capacity to carry 690 40ft LNG ISO tanks or about 15,000 tons of LNG.
The 192 meters long vessels have LNG dual-fuel engines and also feature type C tanks. CSSC Hudong Heavy Machinery provided the engines and the fuel gas supply system (FGSS), Yangzijiang previously said.
Yangzijiang said the ships would operate at a speed of 16 knots and while sailing on LNG would have a range of up to 5,000 nautical miles.
All of the ships will be capable of transporting ISO tanks in both deep sea and inland waters such as the Yangtze River.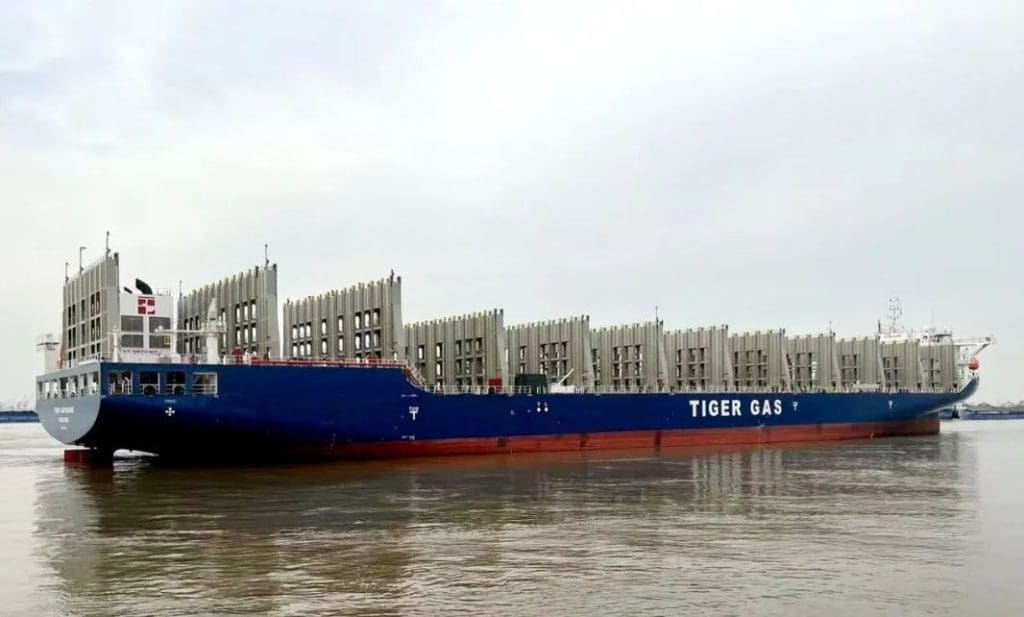 First vessel chartered to SITC
Tiger Gas ordered these vessels to mainly transport ISO tanks from Malaysia to China.
However, the firm chartered the first vessel in this batch, Tiger Longkou, to Hong Kong-based shipping firm SITC.
SITC said earlier this year it would use the vessel to transport containers on its China-Japan route.
It remains unclear whether the other delivered tank carriers would also work as containerships.
Alphaliner previously said this could be the case for all the four vessels due to a strong and profitable containership market.
Besides this, sources said that one of the reasons for the switch could be that Petronas is currently not so much interested in ISO tank deliveries due to very high LNG prices, making these deliveries way to expensive for customers.