UTM Offshore is now planning to decide on Nigeria's first floating LNG project in the second quarter of 2023, the company's managing director and chief executive, Julius Rone, told LNG Prime on Wednesday.
Rone said in December 2021 that UTM had planned to take a final investment decision in the fourth quarter of this year.
"FID will be in the second quarter of 2023," he said on Wednesday.
Last year, Japan's JGC completed the pre-FEED work for the FLNG. As a result of this design work, the FLNG's capacity would be boosted by some 26 percent to 1.52 mtpa.
The unit would process associated gas from the Yoho field currently flared in order to cut carbon emissions and monetize additional reserves for the domestic and global market.
Besides JGC, UTM also selected US-based KBR as the owner's engineer to review JGC's work and said that trader Vitol had joined the consortium to offtake the project's LNG.
The company is now working with JGC and KBR as well as South Korean shipbuilding giant Samsung Heavy Industries on the FEED contract and they planned to sign the deal in April this year.
However, the partners are still in talks over the details of the contract and have not signed it yet, Rone said.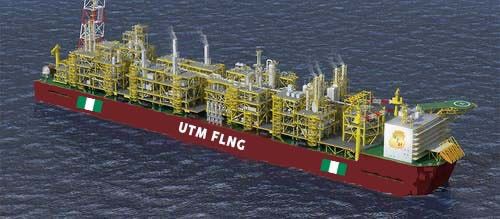 Afreximbank deal
UTM joined forces last year with the African Export-Import Bank (Afreximbank) to secure up to $5 billion for the development of Nigeria's first floating LNG producer.
Under the memorandum of understanding, Afreximbank would provide $2 billion for the project's first phase. Also, the bank further committed to funding another $3 billion for the second phase of the FLNG development.
Following this memorandum, UTM and Afreximbank have now agreed a new deal to progress the project. The duo signed a heads of terms in Kairo last week.
"The project preparation facility means that Afreximbank is committing funding on feasibility studies such as geotechnical studies and others as a commitment of the bank to the project prior to FID and financial close," Rone said.