Canada's Pembina Pipeline and the Haisla Nation are expecting to take a final investment decision on the Cedar LNG export project by the third quarter of 2023.
In February last year, US-based engineer Black & Veatch and South Korean shipbuilder Samsung Heavy Industries won a front-end engineering and design (FEED) contract for the project's proposed floating liquefaction, storage and offloading unit (FLNG).
The $2.4 billion FLNG project would have a capacity of about 3 mtpa and would source natural gas from the prolific Montney resource play in northeast British Columbia.
Cedar LNG plans to receive feed gas from the Coastal GasLink pipeline, which will supply the giant Shell-led LNG Canada export plant near Kitimat.
The floating LNG facility would also be located near the LNG Canada plant and would be powered by renewable electricity from BC Hydro.
Working on deals
Pembina and the Haisla Nation each own 50 percent in the Cedar LNG project.
As with most of Pembina's assets, the company expects to structure Cedar LNG as a tolling business providing a "low risk, long-term cash flow stream, and strengthening Pembina's financial guardrails," the firm said in its 2022 results report.
"Cedar LNG is in active commercial discussions with potential counterparties, all of which are investment grade, for long-term commitments, and is working towards the signing of definitive agreements prior to a final investment decision," Pembina said.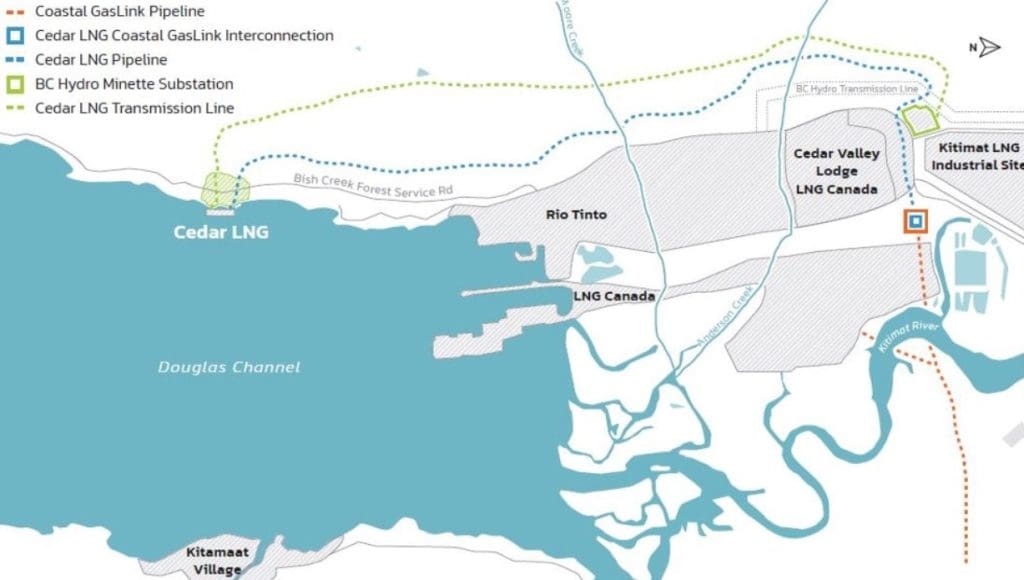 The company said that work with EPC contractors in the development of the floating LNG facility continues.
"The four current work streams – engineering, regulatory, commercial discussions, and financing – are expected to converge for a final investment decision to be made by the third quarter of 2023," the firm said.
Environmental assessment
According to Pembina, the firm expects the BC ministers as well as the federal minister of environment and climate change to decide on the project's environmental assessment in the first quarter of this year.
"We have heard from the BC government that the issuance of the environmental assessment approval is going to be delayed," Pembina's Janet Loduca told analysts during the 2022 earnings call.
"So we continue to be in discussions with the BC government, but we are optimistic that we will receive approval in the near-term," Loduca said.