Canada's Pembina Pipeline and the Haisla Nation are moving forward with the development of their Cedar LNG export project as they look to take a final investment decision this year.
Cedar LNG announced on Tuesday that it has received its environmental assessment certificate (EAC) from the B.C. Environmental Assessment Office, and has signed a memorandum of understanding with Canada's ARC Resources for a long-term liquefaction services agreement.
In February last year, US-based engineer Black & Veatch and South Korean shipbuilder Samsung Heavy Industries won a front-end engineering and design (FEED) contract for the project's proposed floating liquefaction, storage and offloading unit (FLNG).
The $2.4 billion FLNG project would have a capacity of about 3 mtpa and would source natural gas from the prolific Montney resource play in northeast British Columbia.
Also, Cedar LNG plans to receive feed gas from the Coastal GasLink pipeline, which will supply the giant Shell-led LNG Canada export plant near Kitimat.
The floating LNG facility would also be located near the LNG Canada plant.
Pembina and the Haisla Nation each own 50 percent in the Cedar LNG project.
Environmental approval
According to Cedar LNG, it made "several innovative design decisions" to minimize the project's environmental footprint and ensure it "is one of the lowest-emitting LNG facilities in the world."
One of the most important decisions was to power the facility with renewable electricity from BC Hydro.
In addition, the choice of site location allows the project to leverage existing LNG infrastructure, including the Coastal GasLink pipeline, it said.
Cedar LNG also received its first permit from the BC Energy Regulator for the 8.5 kilometer long pipeline that will connect the project into the Coastal GasLink pipeline.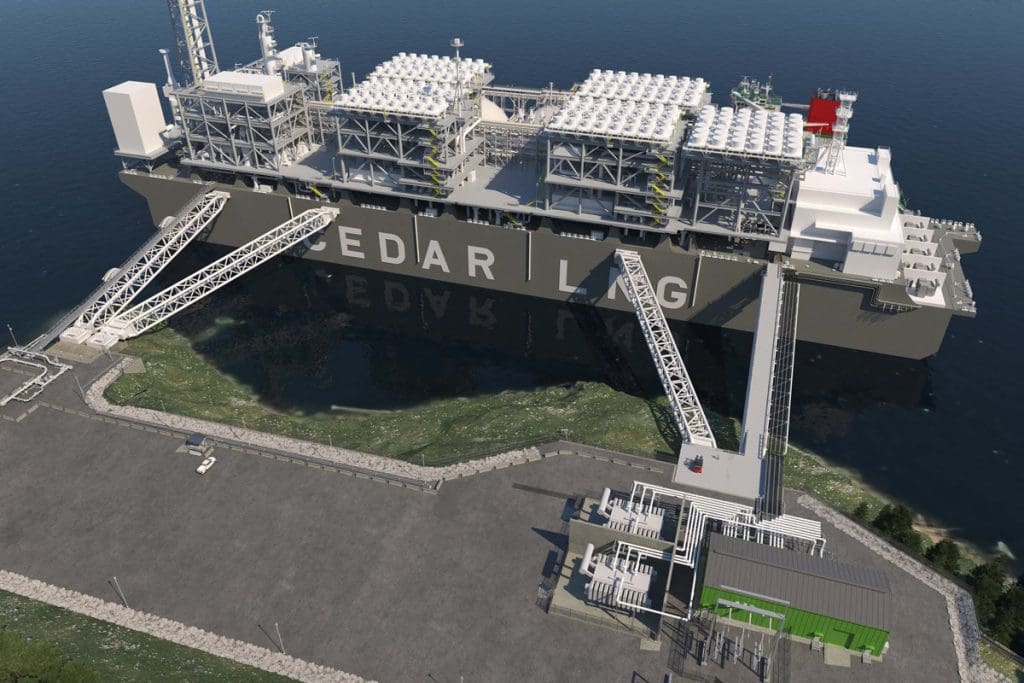 First LNG customer
Cedar LNG has entered into a memorandum of understanding for a 20-year liquefaction services agreement with ARC Resources.
The two firms are working towards finalizing a definitive agreement for 1.5 million tonnes of LNG per year, equivalent to about 200 million standard cubic feet per day of natural gas, or about half of Cedar LNG's production, it said.
Moreover, Cedar LNG said it continues to progress commercial discussions with other potential customers, all of which are investment grade counterparties, for long-term volume commitments.
The JV confirmed that it expects to take a final investment decision for the project in the third quarter of 2023.
ARC Resources signed a natural gas supply deal with Cheniere last year to supply the Corpus Christi expansion project in Texas.
Terry Anderson, president and CEO of ARC Resources welcomed the deal with Cedar LNG saying that "through responsible development, innovation, and collaboration, we can advance the export of more Canadian energy to global markets."
"This agreement is an important step forward in delivering our low-cost, low-emission natural gas to key demand markets, and increasing ARC's exposure to LNG-linked natural gas prices," he said.
Doug Arnell, CEO of Cedar LNG, welcomed ARC Resources as Cedar LNG's first customer.
He added that, in the coming months, Cedar LNG will be focused on advancing work across four critical streams – engineering, regulatory, commercial discussions, as well as financing.