US LNG exporting giant Cheniere has filed an application with the US FERC seeking authorization to construct two midscale trains at its Corpus Christi LNG export plant in Texas.
The Corpus Christi liquefaction plant now consists of three operational trains with each having a capacity of about 5 mtpa.
In June last year, Cheniere took a final investment decision on Stage 3 expansion and officially started construction in October.
Under the expansion, Cheniere will add up to seven midscale trains, each with an expected liquefaction capacity of about 1.49 mtpa, with a total production capacity of more than 10 mtpa.
Besides this expansion, Cheniere plans to build two more liquefaction trains and one storage tank as part of the third expansion phase at the plant.
Cheniere detailed the plan for the proposed Corpus Christi Liquefaction Midscale Trains 8 & 9 Project in August last year.
Majority of volumes committed
Cheniere's units filed a formal application to build these two trains on March 30, according to a filing with FERC.
The company is asking FERC to grant this application by September 27, 2024.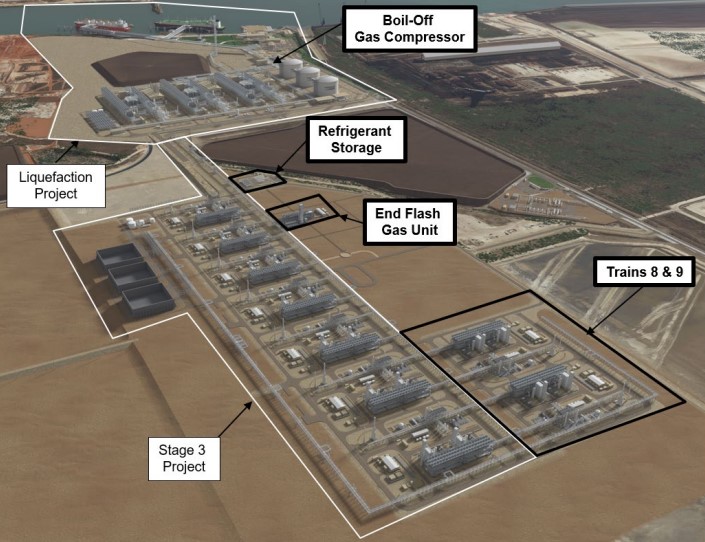 According to Cheniere, the project would include two trains, nearly identical in design to trains 1-7 and each capable of producing up to 1.64 mtpa of LNG, on-site refrigerant storage, a 220,000-cbm LNG storage tank, a BOG compressor, and an increase in the authorized LNG loading rate.
The project would result in an increase in the maximum marine vessel traffic from the 400
LNG carriers per year authorized at the terminal, up to 480 LNG carriers per year.
Cheniere said it would supply feed gas to the project via a combination of the previously permitted Corpus Christi Pipeline facilities and the ADCC pipeline, a non-jurisdictional intrastate pipeline designed to transport up to 1.7 Bcf/d, to be operated by WWM Operating.
Moreover, commercialization of the project "is substantially complete, with a majority of LNG export volumes from the project facilities committed via long-term LNG sales contracts," Cheniere said.
The firm is seeking the approval from FERC by September 27, 2024 so that it may commence construction of the project in the second half of 2024.
If constructed under optimal conditions, Cheniere expects the construction to last four years.
"However, applicants are seeking authorization to complete construction and place the facilities in service by 2031 to accommodate the potential for phasing, schedule changes or other unforeseen disruptions," it said.