QatarEnergy and ExxonMobil continue to make progress in building their giant Golden Pass LNG export plant on the US Gulf Coast near Sabine Pass, Texas.
State-owned QatarEnergy owns a 70 percent stake in the Golden Pass project with a capacity of more than 18 mpta and will offtake 70 percent of the capacity, while US energy firm ExxonMobil has a 30 percent share.
A joint venture of Chiyoda, McDermott, and Zachry is building the tree Golden Pass trains next to the existing LNG import terminal.
Golden Pass LNG Terminal and Golden Pass Pipeline said in the newest construction report filed with the US FERC that Golden Pass is continuing to carry out Phase I and Phase II activities, such as storm water protection, levee construction, stockpiling of material, and piling.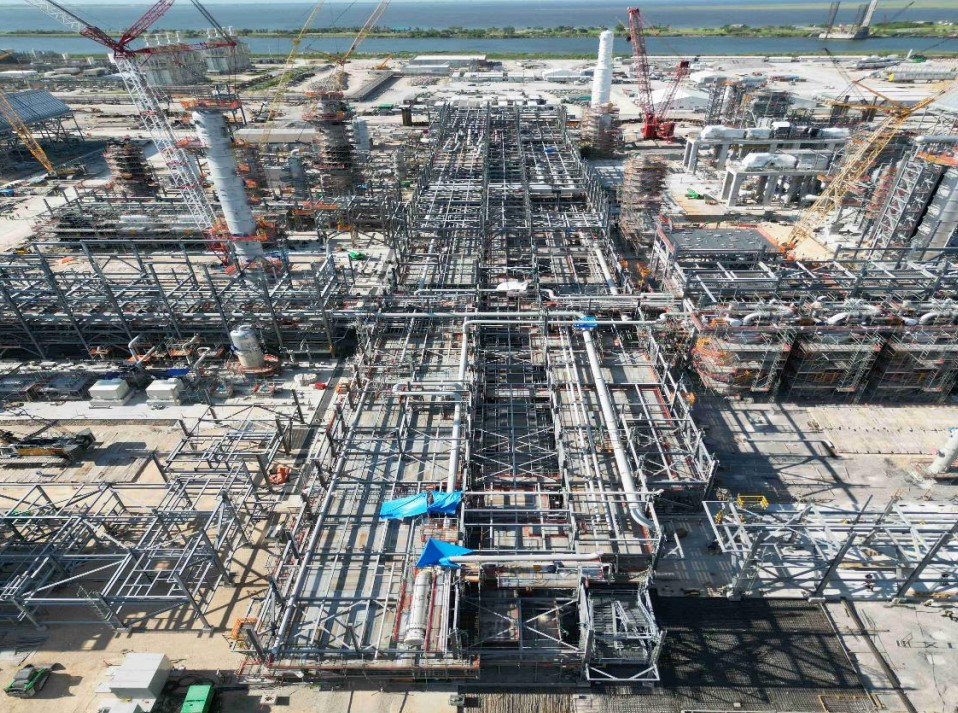 First LNG supplies in 2024
Golden Pass and its contractors progressed installation of piping and steel in process areas, continued walls and piping installation for the ground flares, while concrete foundation pours continued in Train 2 and Train 3.
In addition, Golden Pass progressed setting various vessels on respective foundations and progressed brownfield tie-ins.
The firm also continued LNG tank tops modifications and progressed cable tray installations and cable pulling activities.
As per the pipeline expansion project, Golden Pass continued civil and construction activities supporting milepost (MP)01 Compressor Station, Sabine Spur, Natural Gas Pipeline (NGPL) Interconnect improvements, and associated facilities.
FERC said in an inspection report last month that the anticipated in-service timing for the first train is the second half of 2024, with the second and the third train following after.
The regulator said in inspections reports earlier this year that the anticipated in-service timing for the first train was the first quarter of 2024.
QatarEnergy's CEO Saad Sherida Al-Kaabi said this week in Vancouver during LNG 2023 that 40 percent of all the new LNG supplies that will come to the market by 2029, will be from QatarEnergy's projects.
He said that QatarEnergy is increasing production to 126 million tons per annum in Qatar and "we have another 16-18 MTPA out of the US coming online next year."