Seatrium's yard in Singapore is finalizing the conversion work on the 153,600-cbm FSRU that will serve Gastrade's FSRU-based LNG import project in Greece's Alexandroupolis.
Gastrade said in a social media post on Tuesday that its managing director Konstantinos Sifnaios visited the FSRU at Keppel Offshore & Marine, now part of Seatrium, as the delivery of the converted unit is "getting closer".
Sifnaios was accompanied by officials from some of Gastrade's shareholders, including GasLog, Bulgartransgaz, and DESFA, the firm said in the post.
The company's shareholders are also founder Copelouzou and DEPA.
Gastrade did not provide any additional information in the post.
Bulgartransgaz said in a separate statement that its executive director Vladimir Malinov participated in the visit to the shipyard.
"On site, the project shareholders were informed about a potential delay in implementation of the activities," Bulgartransgaz said.
"In this regard, they discussed measures to optimize the construction of the floating unit of the liquefied gas terminal near Alexandroupolis," the firm said without providing further details regarding the potential delay.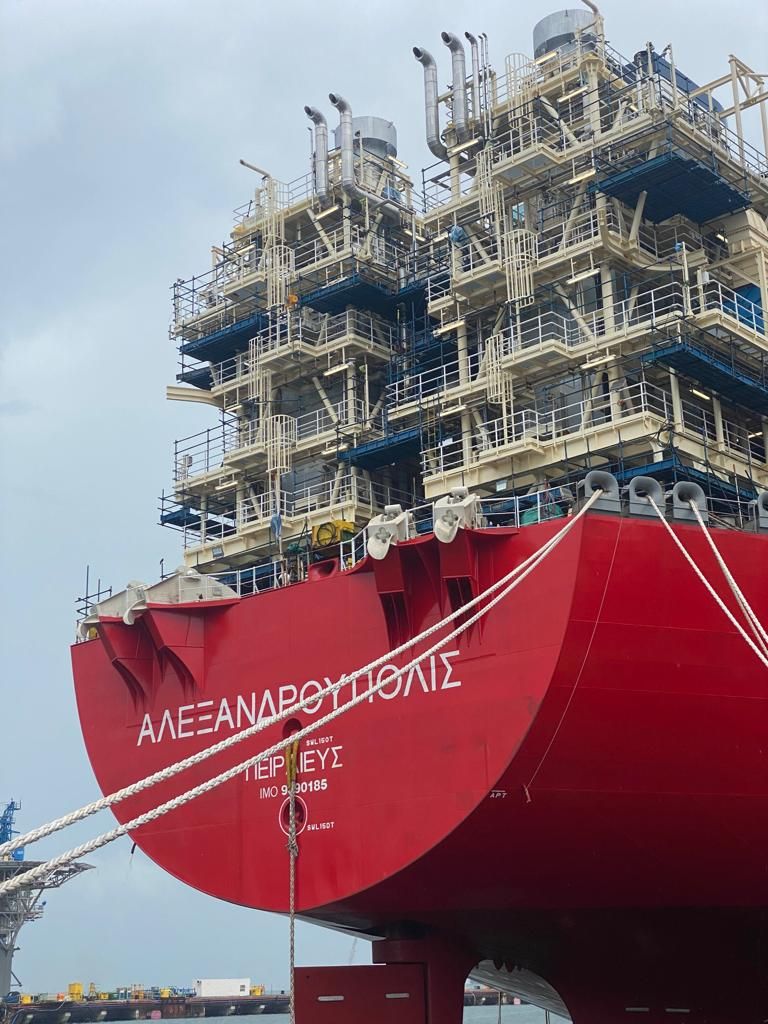 First Greek FSRU
Gastrade took the final investment decision on the project worth 363.7 million euros ($390.5 million) in January last year and officially started construction in May the same year.
Moreover, shareholder and LNG shipping firm GasLog told Keppel Offshore & Marine in February last year to proceed with the conversion of the 2010-built, GasLog Chelsea, to an FSRU.
GasLog will sell this unit to Gastrade for about $265 million.
The vessel entered the yard in February this year and the partners renamed it to Alexandroupoli.
With the Alexandroupolis project, Greece will get its first FSRU and the second LNG import facility, adding to DESFA's import terminal located on the island of Revithoussa.
Gastrade is also planning to install a second FSRU offshore Alexandroupolis.
Greece's first FSRU will connect to the gas grid via a 28 km long pipeline, which includes offshore and onshore sections, to supply the markets of Greece, Bulgaria, and also the wider region.
Also, Denmark's Svitzer, a unit of Maersk, recently secured a contract from Gastrade to provide towage services for the latter's FSRU-based LNG import project in Alexandroupolis.
Svitzer said the Alexandroupolis LNG terminal is set to become operational in the beginning of 2024.
Gastrade previously said that the project with a capacity of 5.5 Bcm could start commercial operation in the fourth quarter of this year.
LNG Prime invited Gastrade to comment on the terminal's launch, but we did not receive a reply by the time this article was published.