China National Offshore Oil Company (CNOOC) has launched what it says is China's first coastal LNG bunkering station for ships.
Operated by CNOOC's gas and power unit, the station located in China's Macun port in Hainan officially started commercial operations on November 20, according to the firm.
The skid-mounted modular station has an annual filling capacity of 25,000 tons while the maximum filling capacity is 54 cbm per hour, state-owned CNOOC said.
As part of trials, CNOOC has supplied two LNG-powered vessels, namely Hai Yang Shi You 550 and Hai Yang Shi You 551, since March of this year from the new station.
China Oilfield Services (COSL), a unit of CNOOC operates these vessels. COSL has in total 12 LNG-powered PSVs on order at CSSC's Wuchang Shipbuilding and Liaonan shipyard.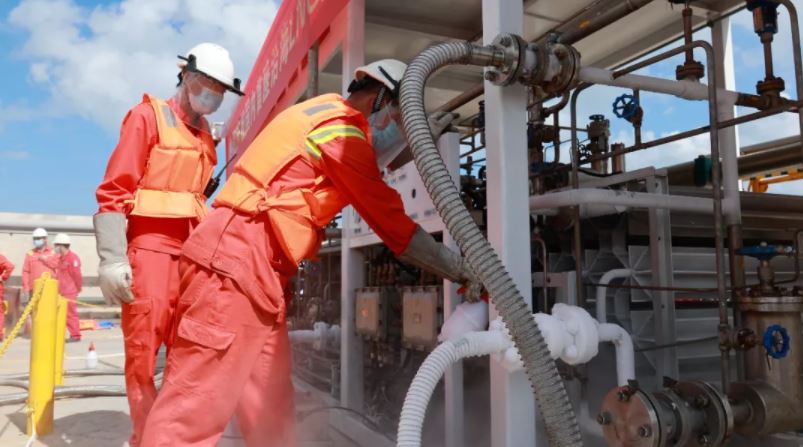 LNG bunkering on the rise in China
China, which is expected to become the world's largest LNG importer this year, has big plans for LNG as fuel as it looks to slash emissions in shipping.
A unit of CNOOC has recently launched a tender to construct a 12,000-cbm LNG bunkering vessel to cater to a growing demand for the fuel.
CNOOC Energy Development is inviting domestic shipyards to submit offers for one bunkering vessel with two type C tanks.
Moreover, this development followed a contract revealed in September where CNOOC said it had signed deals to supply liquefied natural gas to 150 LNG-powered vessels.
The LNG bunkering contract is the first of its kind in China including a large number of ships.
CNOOC's gas and power unit signed a deal with Guangdong Province Navigation Group, parent of GNG Ocean Shipping which has this year ordered 50 small LNG-powered bulk carriers at CSSC's Guijiang Shipbuilding.
In addition, CNOOC's unit would supply liquefied natural gas to Guangxi Jinxiang Shipping's 100 LNG-fueled vessels, it said.
Besides CNOOC, independent gas distributor ENN should next year start using China's first LNG bunkering vessel.
Dalian Shipbuilding Industry (DSIC), a unit of CSSC, is nearing completion of the LNG bunkering vessel which will have a capacity of 8,500 cbm.
ENN previously said the Xin Ao Pu Tuo Hao would work from its 5 mtpa Zhoushan LNG terminal in China's eastern Zhejiang province.