China National Offshore Oil Company (CNOOC) said it had received the 300th cargo of liquefied natural gas at its Zhuhai LNG import terminal in Guangdong since 2013.
According to a statement by CNOOC's gas and power unit, the 1996-built 137,354-cbm, Al Khor, delivered some 61,000 tons of LNG to the Zhuhai terminal on February 12.
Prior to arriving at the terminal in China, this Moss LNG carrier with a steam turbine propulsion had loaded the cargo at the Qatargas-operated Ras Laffan LNG complex in Qatar, its AIS data provided by VesselsValue shows.
This is the 300th cargo of LNG for the Zhuhai terminal since its commissioning in 2013, and also the third shipment of LNG this year, CNOOC Gas & Power said.
QatarEnergy's unit Qatargas also delivered the first LNG cargo to the Zhuhai terminal in October 2013.
CNOOC Gas & Power said that the LNG terminal received the 100th LNG ship in January 2019, followed by the completion of 200 shipments in 2021.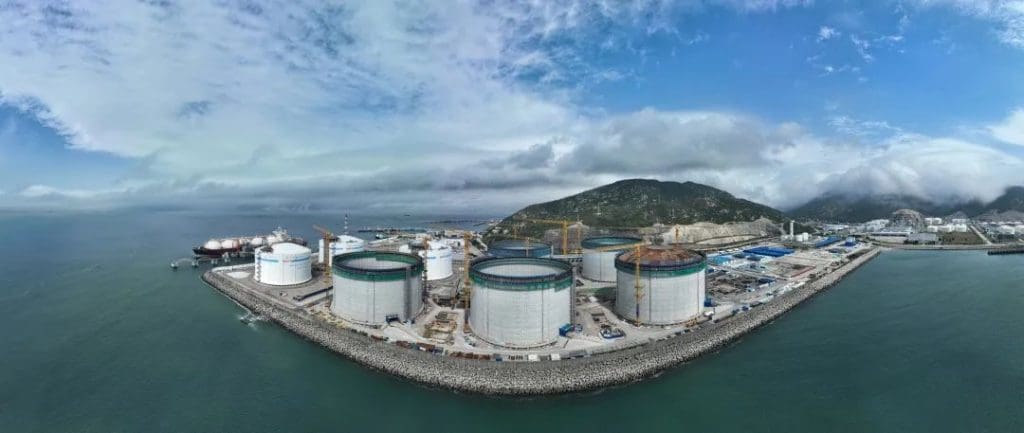 Up to date, the Jinwan "Green Energy Port" in Zhuhai received 20.3 million tons, equivalent to 28 billion cubic meters of natural gas, providing a "strong clean energy support" for the Guangdong-Hong Kong-Macao Greater Bay Area, it said.
The facility currently has three LNG storage tanks with each having a capacity of 160,000 cbm and a regasification capacity of 3.5 mtpa.
However, CNOOC is currently expanding the facility to double the regasification capacity and the firm is also building five giant 270,000-cbm tanks.
These are the world's largest onshore LNG storage tanks by capacity, such as those six at CNOOC's Jiangsu-Binhai LNG terminal, the firm claims.
CNOOC previously said that it expects to complete and put into operation the Zhuhai LNG Phase II project in 2024.
GIIGNL data shows that CNOOC shares the ownership of this facility with several firms, including with Guangdong Energy and Guangzhou Gas Group.