South Korea's Daewoo Shipbuilding & Marine Engineering said it has for the first time installed two type C LNG tanks made of Posco's high manganese steel onboard an LNG-powered VLCC.
DSME held the tank hoisting ceremony at its yard in Geoje on June 16, it said in a statement.
The shipbuilder did not provide additional info regarding the vessel but it last year won orders for ten LNG-powered VLCCs from Advantage Tankers, AET, and International Seaways.
All of these vessels will go on on charter to LNG giant Shell and will feature MAN ME-GI engines and LNG tanks made of manganese steel, DSME previously said.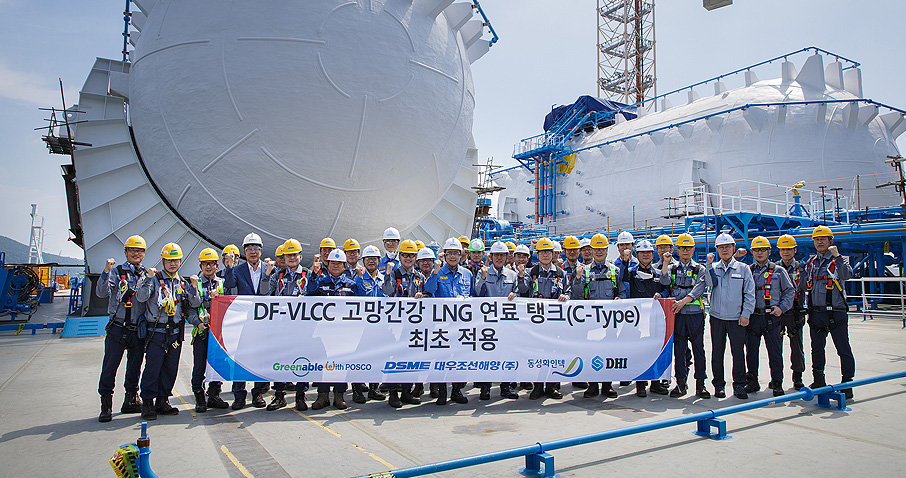 DSME said the world's first installation of a high manganese LNG tank on an LNG-powered VLCC follows a joint work of 10 years by the shipbuilder and steelmaker Posco.
It expects this development to further boost the competitiveness of the Korean shipbuilding industry.
Worth mentioning here, Posco recently said that a unit of US energy giant ExxonMobil had awarded the Korean firm with technology qualification to construct LNG onshore storage tanks out of high manganese steel.
According to Posco, it has already applied the steel, which contains from 10 percent to up to 30 percent of manganese, in the fifth tank of its LNG import terminal at Gwangyang.
In addition, it also used this steel for fuel tanks of about 20 LNG-powered ships, Posco said.