Hapag-Lloyd's ultra-large LNG-powered containership, Berlin Express, has recently completed its first bunkering operation in China's Ningbo-Zhoushan port.
This containership is the first of the twelve ultra-large LNG-powered containerships the German shipping firm ordered at South Korea's Hanwha Ocean.
Hapag-Lloyd recently took delivery of the 23,660-teu Berlin Express saying it will transition to its Asia Gulf Service (AG3) before moving to the Far East Loop 3 (FE3) service in August and calling at Hamburg for her christening in October.
US-based World Fuel Services said in a statement on Monday it has joined forces with the Ningbo-Zhoushan Port Authority and China's state-owned energy giant CNOOC to deliver LNG fuel to the newbuild vessel which is on its maiden voyage.
The dual-fuel Berlin Express took about 6,000 cbm of bonded LNG fuel in an operation that lasted around 20 hours, according to the firm.
With this, the containerships became the second carrier to be refueled with bonded LNG in the port, it said.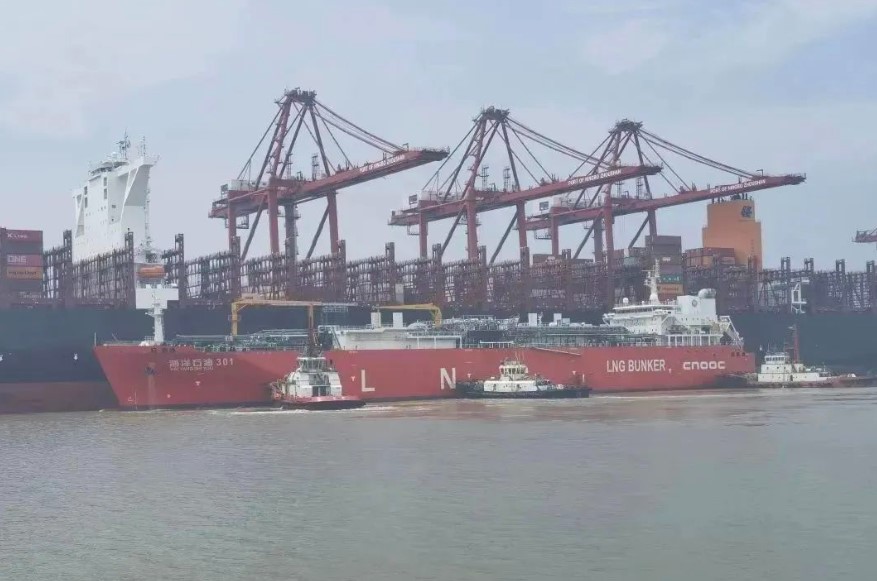 World's largest LNG bunkering vessel
CNOOC Gas and Power said in a separate statement issued last month that the world's largest LNG bunkering vessel, Hai Yang Shi You 301, delivered LNG to the containership on June 21.
In November last year, CSSC's Guangzhou Shipyard International (GSI) converted this 184.7 meters long LNG carrier with Wartsila DF engines and TGE Marine type C tanks to enable it to perform ship-to-ship LNG bunkering operations.
The converted vessel now has a capacity to deliver up to 1650 cbm of LNG per hour during an STS operation.
The LNG bunkering vessel completed its first bunkering operation in the Yantian port in Shenzhen on January 18.
Hai Yang Shi You 301 also recently completed the first LNG bunkering operation at the Meishan terminal in the Ningbo-Zhoushan port.
The bunkering vessel delivered about 9,400 cbm of the fuel to the LNG-powered containership, CMA CGM Unity, during the operation.
This was the first bonded LNG bunkering operation in the Zhejiang province and the first LNG bunkering operation for CNOOC in the Yangtze River Delta region, CNOOC Gas & Power said.
Prior to this bunkering operation, the 30,000-cbm Hai Yang Shi You 301 loaded LNG at CNOOC's Ningbo LNG import facility in Zhejiang.