Switzerland-based shipping giant MSC has taken delivery of its first LNG-powered containership, MSC Washington, as the company looks to decarbonize its operations.
China's Yangzijiang Shipbuilding in Jiangsu said in a statement it has delivered the 14,280-teu vessel during a virtual ceremony held on March 24.
The 335 meters long vessel is the first LNG dual-fuel containership in MSC's fleet, but the shipping company with about 600 vessels is working on a fleet of such vessels.
Back in 2020, Greathorse Shipping, a subsidiary of Tiger Group, ordered two sister ships at Yangzijang Shipbuilding. Each vessel has a price tag of about $110 million, according to VesselsValue.
Earlier this month, LNG Prime reported citing shipbuilding sources that MSC bought the LNG-powered MSC Washington and the sister vessel, MSC Virginia. MSC previously chartered the ships from Greathorse.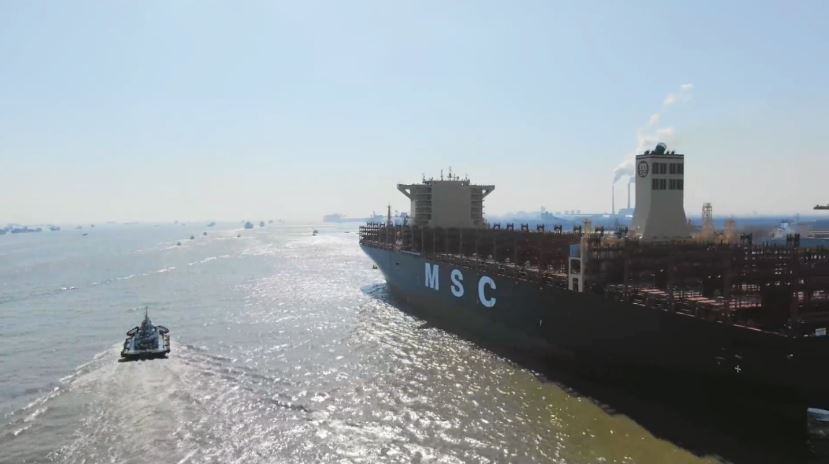 Yangzijiang Shipbuilding said in the statement it had delivered the vessel to Tiger One Container Limited, a unit of Tiger.
The shipbuilder did not mention anything about the change of ownership. It previously said that MSC would charter the LNG-powered containership.
This new vessel features a type C bi-lobe LNG tank that can store about 12,300 cbm of LNG.
Singapore-based LNG fuel system specialist C-LNG Solutions claims this is the world's largest type C LNG tank.
In addition, this is also the first Neopanamax container vessel that features this type of LNG tank, C-LNG previously said.
Besides the giant tank, the vessel has WinGD 9X92DF dual-fuel engine.