China's Dalian Shipbuilding Industry (DSIC) continues to progress work on two LNG-powered CO2 carriers it is building for Norway's Northern Lights, a joint venture consisting of Equinor, Shell, and TotalEnergies.
CSSC's DSIC held a keel-laying ceremony for both of the vessels on April 13, Northern Lights and the shipbuilder said in separate statements.
This follows a steel-cutting ceremony for both of the LNG-powered ships which took place on November 21, 2022.
In October 2021, the shipbuilder won the contract to build the two dedicated carriers, each with a cargo size of 7,500 cbm and a length of 130 meters.
Also, MAN's ME-GI engines will power the CO2 carriers.
Besides LNG power, the vessels will feature a wind-assisted propulsion system and air lubrication in order to reduce carbon intensity.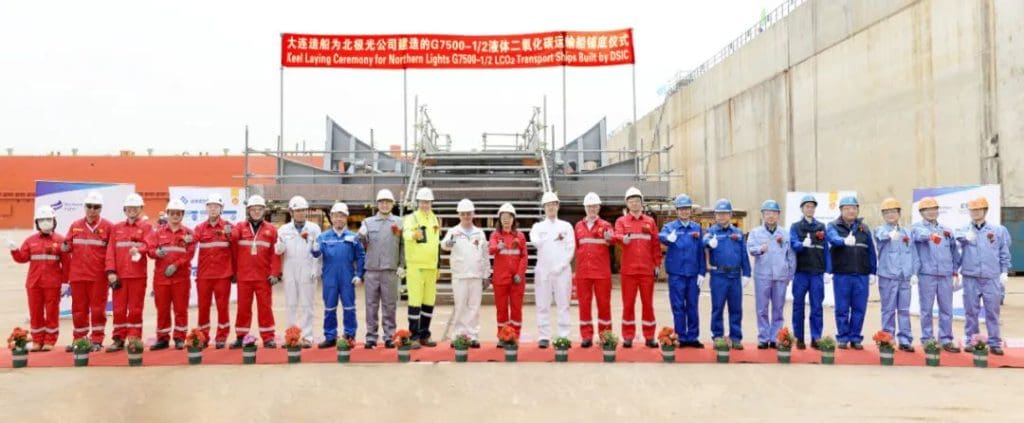 Northern Lights is the transport and storage part of the Longship project, funded 80 percent by the Norwegian government.
The Phase 1 installations are scheduled to come on stream in 2024, with the ability to handle 1.5 million tons of CO2 per year, according to the JV.
In December last year, Japan's K Line and Northern Lights JV have signed bare boat charter and time charter contracts for the two 7,500-cbm LCO2 ships.
Following delivery in 2024, the vessels will transport liquefied CO2 from industrial emitters, including the Norcem Brevik and Hafslund Oslo Celsio carbon capture facilities, to the Northern Lights CO2 receiving terminal in Øygarden, Norway.
"The keel-laying is a major milestone in building the world's first large scale LCO2 transport ships," Børre Jacobsen, managing director for Northern Lights, said in the statement.
"In 2024, the ships will be launched from the dock at the shipyard in China and will sail to the Northern Lights facilities in Norway, ready for operations", he said.