Malaysia's energy giant Petronas said it had completed the first LNG bunkering operation with its Chinese partner Tiger Gas.
With this operation, Hong Kong-based Tiger Gas, led by former Seaspan CEO Gerry Wang, became the first Chinese customer of Petronas LNG bunkering business, according to a statement by the latter.
Also, Petronas said the maiden ship-to-ship LNG bunkering operation included the delivery of 500 tonnes of LNG to the world's largest dual-fuel deck cargo ship, Tiger Maanshan.
The Malaysian firm did not provide any additional details regarding the delivery.
A unit of Petronas completed the first ship-to-ship LNG bunkering operation in Malaysia in November 2020.
Petronas is using the chartered 7,500-cbm Avenir Advantage, owned by Avenir LNG, to supply all kinds of LNG-powered vessels such as car carriers, bulk carriers, chemical tankers, ferries, etc.
ISO tanks
Tiger Gas took delivery of the LNG ISO tank carrier, Tiger Maanshan, from China's Yangzijiang Shipbuilding in February last year.
Yangzijiang built in total four sister vessels for Tiger Gas.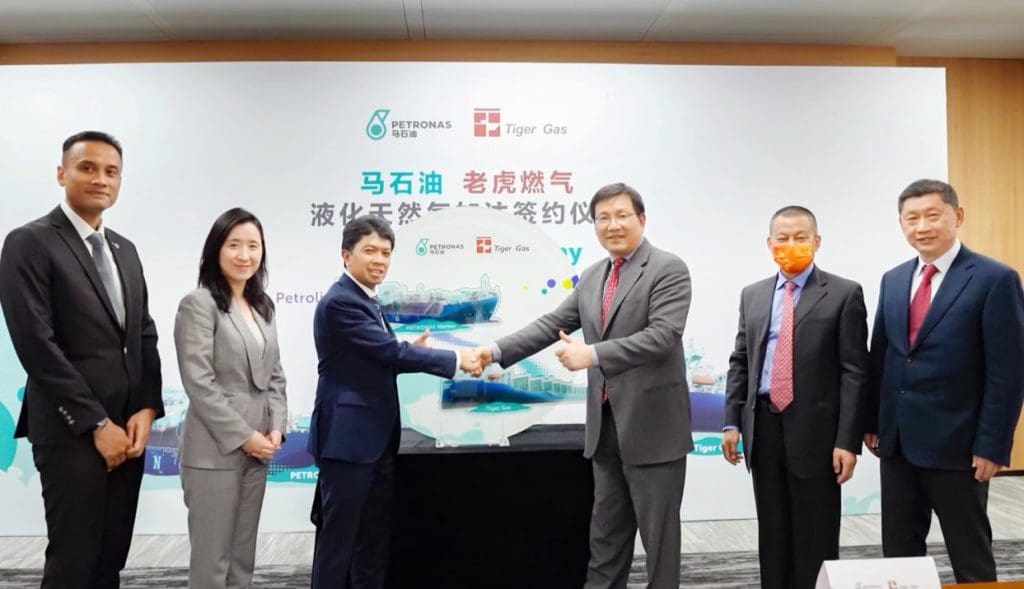 Back in 2020, Petronas and Tiger Gas entered into a deal to supply the Chinese market with LNG via ISO tanks.
After that, Petronas started exporting LNG to China in ISO tanks from its filling facility in Pengerang, Johor, in June 2021.
"This ground-breaking solution allows small and medium-sized businesses located at remote areas access to natural gas, while helping them achieve their sustainability goals," according to the statement on Wednesday.
Moreover, Gerry Wang said in the statement that Tiger and Petronas have maintained a "sound partnership" for a long time.
"Today, offshore ship-to-ship LNG bunkering has greatly shortened the turnaround of LNG carrier vessels, laying a solid foundation for a more efficient and greener LNG supply chain," he said.
Petronas VP of refining, marketing and trading, Ahmad Adly Alias, added that Petronas is "committed to making sustainability the cornerstone of our operations in China by providing energy solutions that would help accelerate the progress towards the country's "dual carbon" goal whilst collectively contributing to the energy industry growth alongside our partners."