Novatek's yard in Russia's Murmansk has received two more giant Arctic LNG 2 modules from China, as work continues to progress on the first gravity base structure (GBS) platform.
COSCO Shipping Heavy Transport's semi-submersible vessel Xin Guang Hua arrived at the yard in Belokamenka in Murmansk last week, according to its AIS data provided by VesselsValue.
Previously, the vessel loaded two Arctic LNG 2 modules in Tianjin in December.
COSCO Shipping said it had transported the equipment as part of a deal with Technip Energies. The latter is a part of a joint venture, which includes Saipem and Nipigas, and the main contractor of the Arctic LNG 2 project.
Tianjin-based Bomesc Offshore Engineering built the two giant modules including what it says is the heaviest Arctic LNG 2 module.
Module 1TMP-005 is 60 meters long, 38 meters wide, 57 meters high, and weighs about 8,418 tons.
On the other side, module 1TMR-005 is the largest and heaviest module of the Arctic LNG 2 project. It is 60 meters long, 44 meters wide, 57 meters high, and weighs 15,147 tons, according to Bomesc.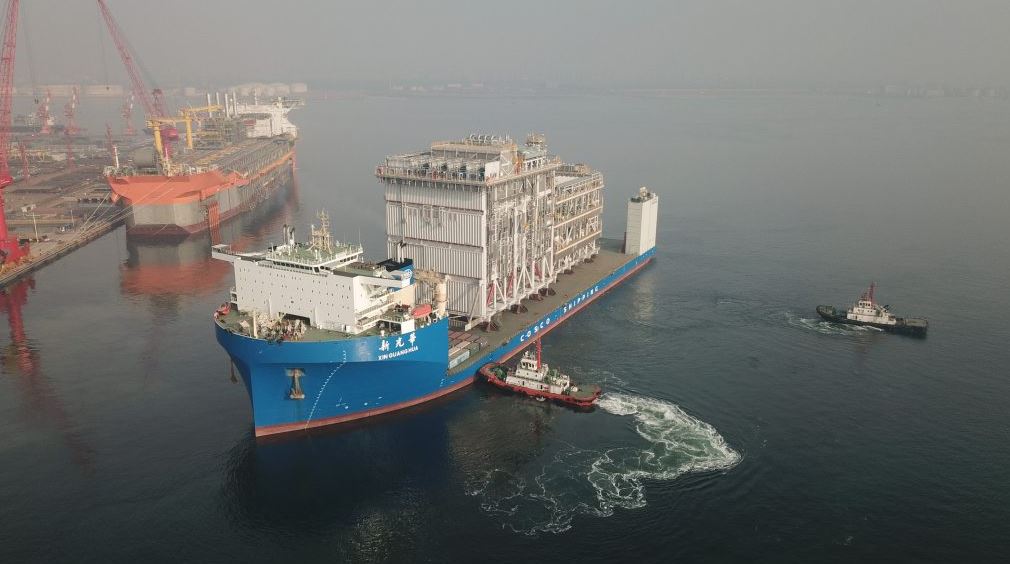 Fourteen modules for first LNG train
In September last year, Russian independent LNG producer Novatek said its yard in Murmansk had received the first Arctic LNG 2 modules from China.
The two first pipe-rack modules weighing about nine thousand tons each were further skidded onto the GBS platform of the first Arctic LNG 2 train.
China's Wison Offshore and Marine built these Arctic 2 LNG modules.
Overall, contractors' shipyards will supply in total 14 modules for the first LNG train, Novatek previously said.
The Arctic LNG 2 project located on the Gydan peninsula includes the construction of three LNG trains with a capacity of 6.6 mtpa, each.
Novatek is the LNG project's operator with a 60 percent stake, France's TotalEnergies owns 10 percent while CNPC and CNOOC of China have 10 percent, each.
Japan Arctic LNG, a consortium of Mitsui & Co and Jogmec, owns a 10 percent stake in the project as well.
The partners plan to launch the first LNG train in 2023, with trains 2 and 3 to follow in 2024 and 2025, respectively.