Singapore's first LNG bunkering ship FueLNG Bellina, owned by Keppel Offshore & Marine and Shell, has completed another fueling operation. The newest client is the 23,000 TEU CMA CGM Jacques Saade, the world's largest LNG-powered ship.
FueLNG said on Thursday the bunkering vessel completed the operation to Jacques Saade, the first out of nine 400 meters long ULCVs that go on LNG. The giant ship has an 18,600-cbm GTT fuel tank.
CMA CGM said in a separate statement that Jacques Saade received 6,801 cbm of LNG during the transfer, but it also set a new world record departing Singapore with 21,433 full containers.
The new bunkering operation in Singapore follows a ship-to-ship fueling operation to 15,000 TEU CMA CGM Scandola, chartered by the French shipping group.
The March operation marked the first for FueLNG Bellina but also the first ship-to-containership LNG bunkering operation in Asia, according to FuelLNG.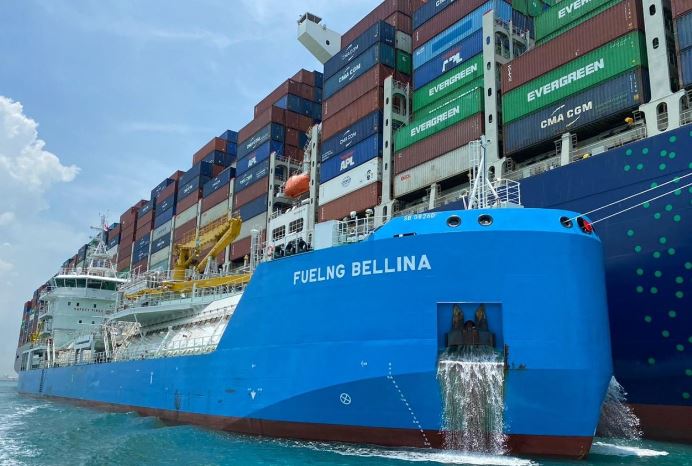 FueLNG took delivery of the vessel at Keppel's Nantong yard in early January after it departed to Singapore, where it started its commercial operations.
Furthermore, the 7,500-cbm dual-fuel bunkering vessel enables Shell and Keppel to be the first to provide regular ship-to-ship LNG bunkering services within the Singapore port.
FueLNG said it aims to provide a total of about 30 to 50 STS LNG bunkering operations in 2021, extending its track record of over 300 truck-to-ship bunkering operations so far.