State-owned QatarEnergy has signed two long-term contracts with US energy firm ConocoPhillips to supply Germany with liquefied natural gas (LNG).
Under the deals, Germany would receive about 2 million tons of LNG per year with the first shipment expected in 2026, according to QatarEnergy.
The LNG producing giant says that these deals mark the first-ever long-term LNG supply to Germany with a supply period that extends for at least 15 years.
A ConocoPhillips unit would purchase the agreed quantities to be delivered ex-ship to the German LNG receiving terminal, which is currently under development in Brunsbuettel in northern Germany.
In October, ConocoPhillips booked long-term capacity at the planned onshore LNG import terminal in Brunsbuettel, developed by German LNG Terminal and expected to go online in 2026.
Qatar's giant LNG expansion
The LNG volumes would come from the two joint ventures between QatarEnergy and ConocoPhillips that hold interests in Qatar's North Field East (NFE) and North Field South (NFS) projects.
ConocoPhillips recently took a 6.25 percent interest in QatarEnergy's 16 mtpa NFS LNG project.
Prior to that, the US firm secured a 3.12 percent stake in the $28.75 billion NFE expansion project, the first and larger phase of QatarEnergy's giant LNG expansion.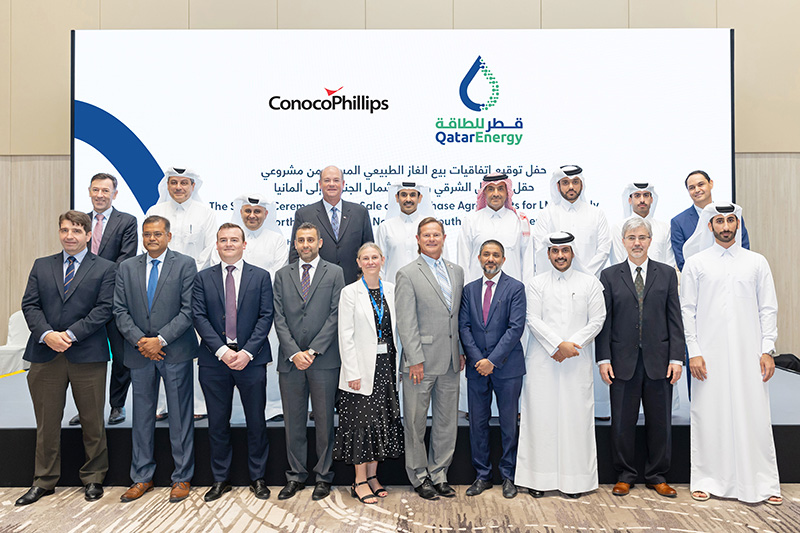 Together, NFE and NFS form the wider North Field Expansion project to increase LNG production from the North Field, adding about 48 mtpa to Qatar's export capacity and bringing it to 126 mtpa by 2027.
QatarEnergy's unit Qatargas currently operates 14 LNG trains in Ras Laffan with a total annual production capacity of about 77 mtpa.
Prior to this deal for German LNG supplies, QatarEnergy announced a huge supply contract with China's Sinopec related to the LNG expansion projects and also starting in 2026.
German LNG imports
Germany and Qatar have been in talks for LNG supplies since the beginning of this year as Germany looks to replace Russian pipeline gas supplies.
The European country currently has no operational regasification facilities but it should start importing LNG later this year or in the beginning of the next via the Lubmin FSRU terminal owned by private firm Deutsche Regas, Uniper-led Wilhelmshaven LNG terminal, and RWE's Elbhafen LNG terminal in Brunsbuettel.
Deutsche ReGas, the developer of the LNG import terminal in the port of Lubmin, recently said that Germany's first FSRU arrived in the Mukran Port on the island of Ruegen.
Also, the country's first LNG jetty is ready in Wilhelmshaven, ahead of the arrival of Hoegh LNG's 2018-built 170,000-cbm, FSRU Esperanza, in December.
Germany backed the charters of five FSRUs, two from Hoegh LNG, two from Dynagas, as well as one from Excelerate Energy.
(Article updated to include more details regarding the contracts.)