State-owned QatarEnergy has selected US-based ConocoPhillips as a partner in its 16 mtpa North Field South (NFS) LNG project.
Qatar's energy minister and chief executive of QatarEnergy, Saad Sherida Al-Kaabi, signed the partnership agreement with Ryan Lance, CEO of ConocoPhillips, in Doha on Sunday, according to QatarEnergy.
ConocoPhillips will take a 6.25 percent interest in the LNG project out of a 25 percent interest available for international partners.
The US energy firm is the third partner and final partner to join the project after Shell and TotalEnergies, who each took a 9.375 percent participating interest in the NFS project.
QatarEnergy will hold the remaining 75 percent in the LNG project.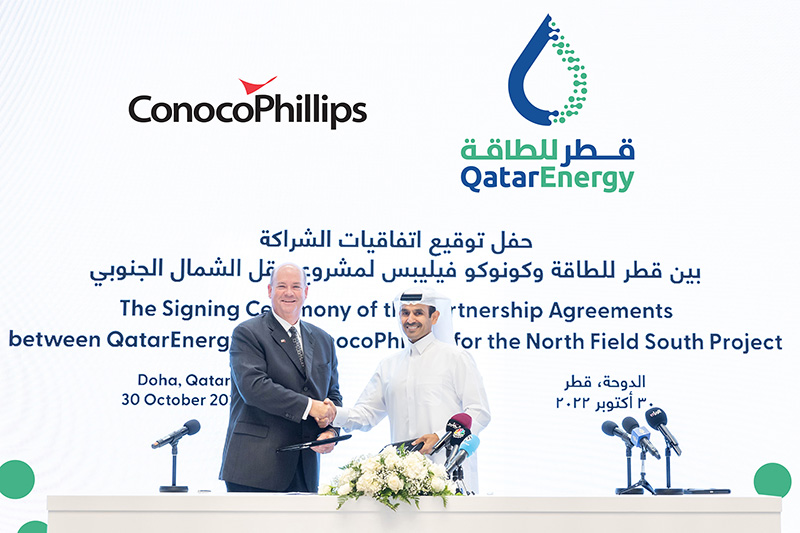 Previously, both Shell and TotalEnergies took a 6.25 percent stake while ConocoPhillips secured a 3.12 percent stake in the $28.75 billion North Field East (NFE) expansion project, the first and larger phase of QatarEnergy's giant LNG expansion.
Together, NFE and NFS form the wider North Field Expansion project to increase LNG production from the North Field, adding about 48 mtpa to Qatar's export capacity and bringing it to 126 mtpa by 2027.
"QatarEnergy and its partners continue their efforts to supply an additional volume of about 65 million tons of LNG annually, from its North Field expansion projects and the Golden Pass LNG project, to the global market to meet growing demand for cleaner, low-carbon energy, and to enhance energy security of customers around the world," Al-Kaabi said.