Small-scale player Avenir LNG has delivered a blend of liquefied natural gas and bio-LNG to a newbuild RoPax ferry owned by Germany's TT-Line in the northern port of Luebeck.
This truck-to-ship LNG and bio-LNG bunkering operation to TT-Line's Nils Holgersson took place on June 10 at the Scandinavian quay of the Baltic Sea port, according to a statement by Avenir.
Avenir said the the blend included 10 percent of bio-LNG and the firm organized the delivery via its unit Avenir Marine.
Also, the London-based joint venture of Stolt-Nielsen, Hoegh LNG, and Golar LNG teamed up with Berlin-based LNG firm Liquind and biomethane trader Landwarme for the operation.
This bunkering marks the start of a long-term cooperation between Avenir and TT-Line for the supply of LNG and bio-LNG to two new RoPax ferries that will transport passengers and cargo between Baltic Sea ports in Sweden, Germany, and Poland.
It also represents the first LNG bunkering operation in the port of Luebeck and the first bio-LNG delivery from Avenir to a marine customer.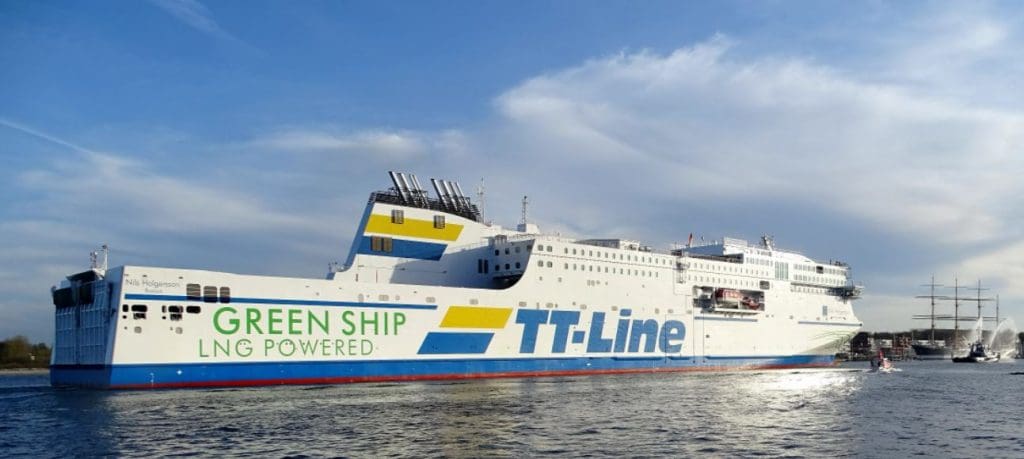 In April, German ferry operator TT-Line started using its 230 meters long LNG-powered RoPax ferry, Nils Holgersson, in the Baltic Sea.
China Merchants Jinling Shipyard in Nanjing delivered this vessel to the owner during a ceremony held on March 7.
Furthermore, the Chinese yard is also building a sister ship, Peter Pan, which it launched in July last year.
The vessels feature MAN dual-fuel engines but they also each have two 500-cbm type C LNG tanks, according to TT-Line.
Based on TT-Line's 'Green Ship' design, they have the capacity for 800 passengers and over 200 vehicles.