Classification society DNV has added 14 LNG-powered ships to its Alternative Fuels Insight platform in July. Including 15 retrofits, DNV also added record 48 methanol-powered vessels last month.
The classification society said that orders for LNG-fueled ships continue at a "steady pace".
Last month DNV reported orders for 26 LNG-powered ships.
The January-May period of this year has been slow for LNG-powered newbuild orders after a record 2022 with 222 orders.
In January, DNV reported no orders for LNG-powered vessels, while there were 10 LNG dual-fuel ships ordered in February, 8 in March, 10 in April, and 7 in May.
DNV said that this month's orders brought the number of confirmed LNG-fueled crude oil tankers past the 100 mark, 65 of which are already in operation.
Car carriers and large tankers were driving growth in LNG-powered orders last month.
On the other hand methanol-powered orders reached a record high last month.
"Beating last month's record by a solid margin, orders for methanol-powered vessels have now jumped past the 200 mark," Martin Wold, principal consultant in DNV's maritime advisory business, said.
"The significant number of new confirmed orders and retrofits for methanol coincides with the delivery of the world's first methanol-fueled container vessel and the signing of the first bunker supply agreement for green methanol for ships," he said.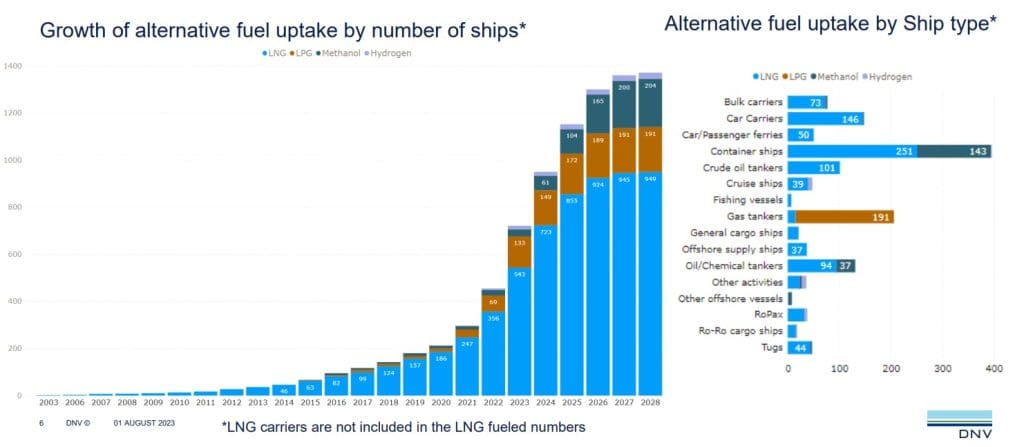 420 LNG-powered ships in operation
DNV's platform shows that there are now 420 LNG-powered ships in operation, while owners placed orders for 529 LNG-fueled vessels.
As previously said, LNG-powered crude oil tankers lead the way with 65 in operation, followed by 55 containerships, 47 oil/chemical tankers, and 44 car and passenger ferries.
As per vessels on order, LNG-powered containerships account for a big part of the orders with 196 units. Shipping firms also ordered 133 car carriers, 47 oil and chemical tankers, 39 bulk carriers, and 36 crude oil tankers.
These statistics do not include smaller inland vessels or dual-fuel LNG carriers.
45 LNG bunkering vessels and 191 LPG-powered ships
Besides LNG-powered vessels, there are 45 LNG bunkering vessels in operation and 19 on order, the platform shows.
In addition to 949 confirmed LNG-powered ships, the fleet powered by alternative fuels also includes 191 LPG-powered ships, 204 methanol-fueled vessels, and 27 hydrogen-fueled vessels, according to the platform.