Classification society DNV has added 26 LNG-powered ships to its Alternative Fuels Insight platform in June, the highest monthly number of vessels this year.
Including retrofits, DNV also added 29 methanol-powered vessels last month.
So far this year, the total order figure for alternative fuel vessels stands at 128, while the container segment continues to be the main driver of growth in orders, the classification society said.
Container vessels constituted almost half on the LNG-fueled ships ordered last month, bringing the total count for LNG-powered container vessels past the 250 mark, it said.
For methanol, container vessels made up nearly 80 percent of the new orders, bringing the total count of methanol-fueled container vessels past the 100 mark.
"We continue to see a strong pipeline for orders of both LNG and methanol-fueled vessels," Martin Wold, principal consultant in DNV's maritime advisory business, said.
"June saw the first order for a methanol-powered vessel within the tanker segment that was not a methanol carrier. We now have methanol-fueled ships in the pipeline for most main segments but when excluding methanol carriers, containers make up more than 80 percent of the entire confirmed fleet of methanol-fueled ships. Measuring by future fuel demand, that share rises to well over 90 percent," he said.
The January-May period of this year has been slow for LNG-powered newbuild orders after a record 2022 with 222 orders.
In January, DNV reported no orders for LNG-powered vessels, while there were 10 LNG dual-fuel ships ordered in February, 8 in March, 10 in April, and 7 in May.
However, these 26 orders in June can compare to some of the best months last year which saw record orders for LNG-powered ships.
The most recent orders for LNG-powered vessels include the giant order by France's CMA CGM for 10 24,000-teu LNG-powered containerships at Chinese private shipyard Yangzijiang Shipbuilding.
Such the previous nine CMA CGM LNG-powered giants, these vessels will have huge LNG fuel tanks.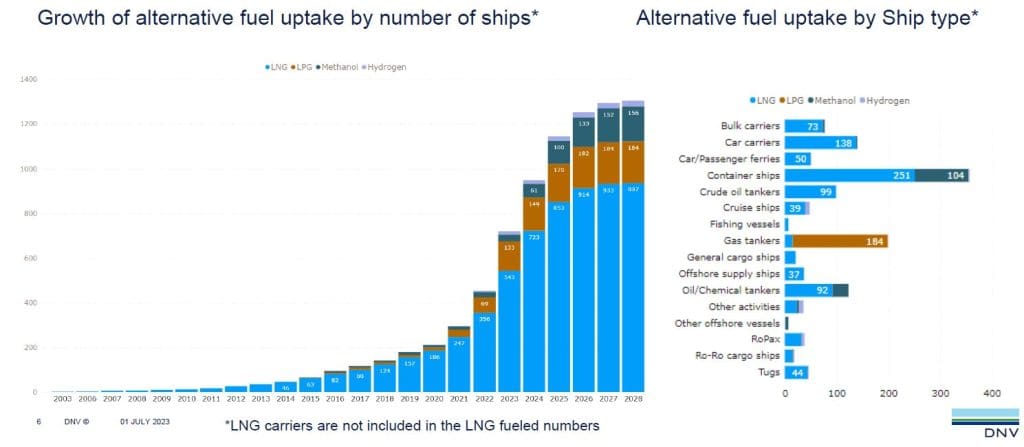 More than 400 LNG-powered ships in operation
DNV's platform shows that there are now 411 LNG-powered ships in operation, while owners placed orders for 526 LNG-fueled vessels.
LNG-powered crude oil tankers lead the way with 62 in operation, followed by 53 containerships, 46 oil/chemical tankers, and 44 car and passenger ferries.
As per vessels on order, LNG-powered containerships account for a big part of the orders with 198 units. Shipping firms also ordered 125 car carriers, 46 oil and chemical tankers, 40 bulk carriers, and 37 crude oil tankers.
These statistics do not include smaller inland vessels or dual-fuel LNG carriers.
44 LNG bunkering vessels and 182 LPG-powered ships
Besides LNG-powered vessels, there are 44 LNG bunkering vessels in operation and 20 on order, the platform shows.
In addition to 937 confirmed LNG-powered ships, the fleet powered by alternative fuels also includes 184 LPG-powered ships, 156 methanol-fueled vessels, and 27 hydrogen-fueled vessels, according to the platform.