Poland's Gaz-System plans to launch a binding season in the second quarter for additional capacity at the planned FSRU-based LNG import project in Gdansk Bay following a successful non-binding market test.
Last month, Gaz-System launched the non-binding season for the FSRU-based project as it looks to add about 4.5 bcm of annual regasification capacity to the already planned capacity of 6.1 bcm per year.
Gaz System said in a statement last week that the market screening procedure took place from March 6 to March 20.
The firm assessed both the demand for additional regasification capacity and the interest in export of regasified LNG towards Slovakia, Lithuania, Denmark, Germany, as well as the Czech Republic and Ukraine, it said.
"The evaluation of the questionnaires submitted during the procedure and the indicated non-binding level of demand confirms the market's interest in the increased regasification capacity of the FSRU terminal, as well as in the export of regasified LNG in the region, and provides a basis for further analysis by the operator," it said.
Gaz-System added that it plans to launch the binding open season during the second quarter of this year.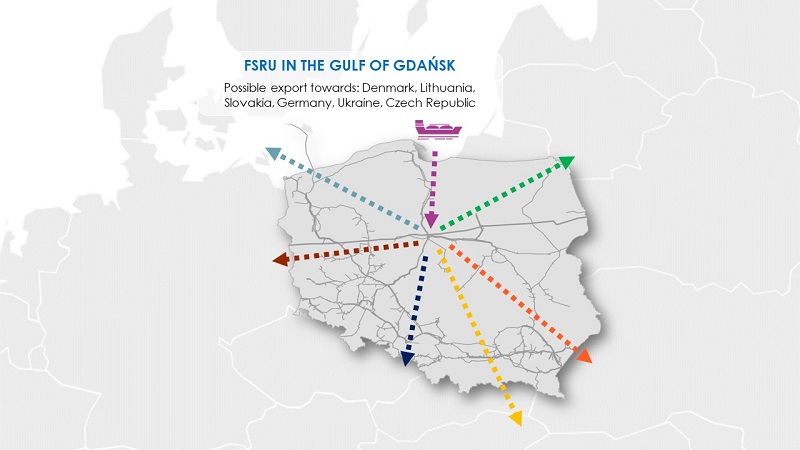 LNG imports rising
The firm already operates Poland's first LNG import terminal in Swinoujscie, while the country's dominant gas firm PGNiG, now part of PKN Orlen, is in charge for all the supplies.
Poland's LNG imports via the Swinoujscie terminal rose 57 percent in 2022 when compared to the year before, boosted by shipments from the US.
The Gdansk project would be the second LNG import terminal in Poland and the first FSRU-based facility in the country.
Following a binding season launched in 2021, PGNiG also showed interest to book capacity in this LNG terminal in Gdansk Bay.
Earlier this year, Gaz-System also provided an update regarding both the onshore and offshore parts of the project.