Spot charter rates for the global LNG carrier fleet are continuing to drop in both basins as vessel availability remains high, according to Spark Commodities.
In October, both the Atlantic and Pacific rates for 160,000-cbm TFDE carriers climbed above $400,000/day, with the Atlantic rate reaching more than $480,000/day.
However, the rates have been declining ever since and Atlantic Spark30S dropped below 100,000 per day earlier this month.
Now the Spark25 Pacific also dropped under $100,000 per day while the Atlantic rates were at a five-month low on Friday, according to Spark.
The Atlantic rates decreased $29,250 to $60,750 per day last week as vessel availability remains high, it said.
"Spark25 Pacific also dropped below $100,000 this week, falling $27,500 to $84,250 per day," Spark said.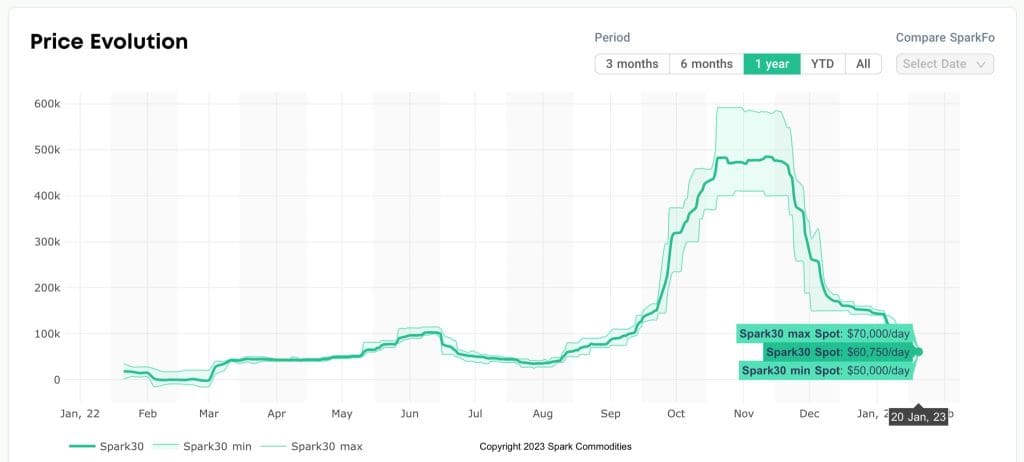 Spark previously said that the ongoing delays with the restart of the Freeport LNG facility was one of the main reasons for the drop in the Atlantic rate.
Last month, the operator of the 15 mtpa Freeport LNG export terminal on Quintana Island again delayed the restart of the facility in Texas.
Freeport LNG is still targeting initial production at the facility by the end of this month despite several recent reports claiming that this would be probably moved to February or even to March.
Prior to the shutdown on June 8, most of the cargoes produced at the Freeport plant in 2022 landed in Europe. This is the case with other US LNG terminals as well.
European LNG imports surged last year as European countries look to boost energy security and replace pipeline gas from Russia and most of these volumes came from the US.
Due to high demand, European terminals such as the Dutch Gate LNG in Rotterdam, UK's Grain LNG, and Greece's Revithoussa terminal received record number of cargoes last year.