French shipbuilder Chantiers de l'Atlantique has launched the first of two LNG-powered superyachts it is building for The Ritz-Carlton Yacht Collection.
Chantiers de l'Atlantique held the launching ceremony for the LNG-powered Ilma at its yard in Saint-Nazaire on September 29.
The Ritz-Carlton Yacht Collection, an ultra-luxury cruise line established by Marriott International's Ritz-Carlton brand and Oaktree Capital Management, expects the the vessel to embark on its inaugural voyage in the Mediterranean in 2024.
The cruise company ordered two LNG-powered vessels at Chantiers de l'Atlantique in March last year and the second vessel, Luminara, should set sail in 2025.
Chantiers de l'Atlantique started building Ilma in July last year and laid the keel in March this year.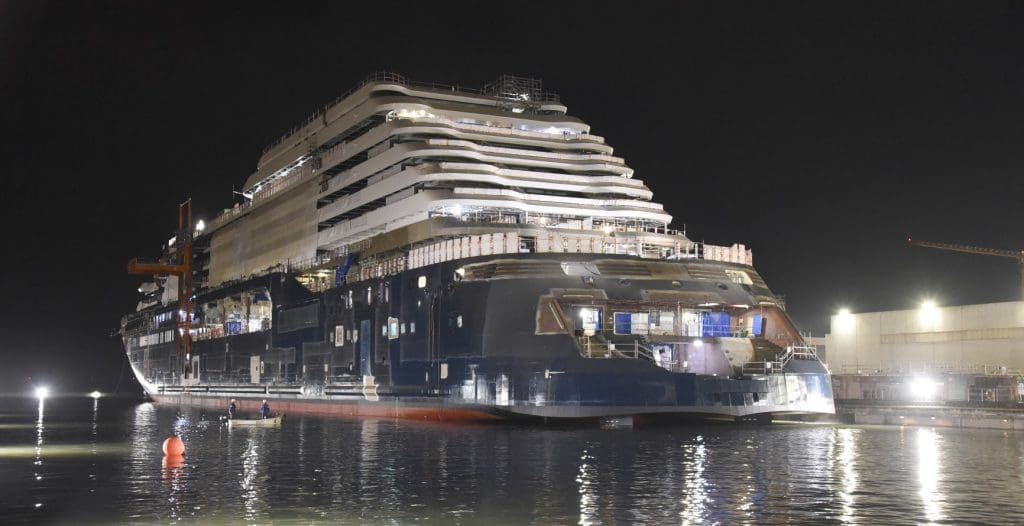 As part of the float out, the yacht's dry dock was filled with water overnight, then moved to an outfitting dock where it will remain for the rest of its build leading to sea trials in April and start of its first season, The Ritz-Carlton Yacht Collection said.
Now afloat, final-stage construction will focus on completing interiors, fixtures, and fittings for suites, restaurants, and other public spaces that will welcome guests to experience a new journey of discovery at sea in just less than a year, it said.
Ilma, meaning "water" in Maltese, will be the second newbuild superyacht from The Ritz-Carlton Yacht Collection as its inaugural yacht, Evrima, embarked on its maiden voyage in October 2022.
Measuring about 241 meters, the yacht will feature 224 airy, light-filled suites, all with private terraces, and will accommodate up to 448 passenger, according to the cruise firm.